Carrie Fiol, Adam Miller plan June rites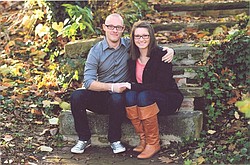 Photo
Cory A. Graham and Rebekah L. Rohrbaugh
Jeffrey Fiol of Lake Milton and Ken Miller of North Jackson are announcing the engagement of their children, Carrie E. Fiol and Adam C. Miller, both of Poland.
The bride-elect also is the daughter of the late Cynthia Fiol. The future groom also is the son of the late Paula Miller.
Invitations will be extended for a 3:30 p.m. wedding June 15 at Drake's Landing in Canfield, where a reception will follow.
The couple are both graduates of Youngstown State University.
The bride-to-be earned a bachelor's degree as an intervention specialist and a master's degree in autism/low incidence disabilities. She attends Kent State University in a behavior intervention specialist program and is an intervention specialist at Canfield High School.
Her fiancé earned a bachelor's degree in integrated language arts and works for AT&T in Boardman.