Big Reach Center of Hope distributes food, clothing and hope and more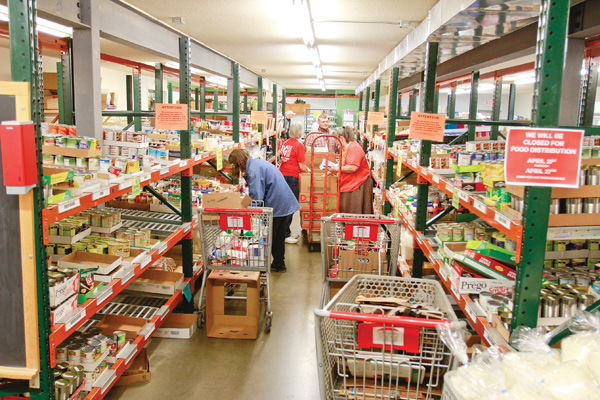 ---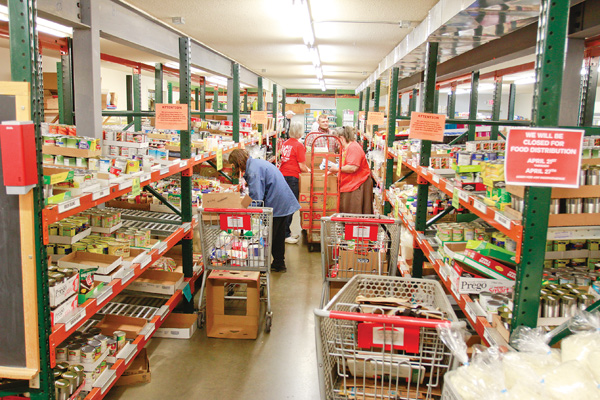 Photo
The warehouse at Big Reach Center of Hope in Greenford is abuzz with activity as volunteers perform various tasks.
By LINDA M. LINONIS | linonis@vindy.com
GREENFORD
The Big Reach Center of Hope was born out of a back-to-school giveaway in 2004 organized by Scott Lewis, a member of Greenford Christian Church. The center is marking its 10th anniversary.
The first year, about 200 children benefited from the back-to-school event.
Last year, 8,700 families representing 30,000 people in Mahoning, Trumbull, Columbiana, Stark and Portage counties received food, clothing and other assistance such as rent, utilities and prescription drugs.
A decade ago, Lewis said he shared the struggle of many families to provide school supplies for his three daughters. "I remember it being a rough time to buy everything," he recalled.
Lewis said he checked with church leadership about the possibility of sponsoring a back-to-school giveaway. "They said 'go for it,'" Lewis recalled. With no money and no experience in such a project, Lewis forged ahead. A classroom at the church was used to collect supplies; the back-to-school giveway was a success.
"God gave me the vision," Lewis said of the effort. "He called me to leadership."
But the success of the back-to-school event revealed a deeper need within the Valley. People needed food, clothing and more, and the project responded.
"God opened doors," Lewis said. He added that whenever he was "freaking out" about the lack of something, a donation came through to meet the need.
The project soon outgrew its space at the church. In 2006, the 22,000-square-foot Big Reach Center was built in 10 days by Extreme Makeover My Home Town. It includes a warehouse; food, clothing and toy distribution areas; offices, classrooms and welcome area.
Lisa Wallace in marketing and donor relations said the center has some 150 volunteers who contribute 20,000 hours annually. They do such jobs as stocking shelves, bagging bread and sorting clothes.
Along the way, Lewis said he realized there was more to helping people than handing out free food and clothing. Though he doesn't minimize the need, he said people often feel better about receiving help if they can contribute something. New programs to address that were initiated.
369 Give Back allows for three "free" visits; then subsequent visits come with required volunteer hours at the center or one of its partners. Since that was started in 2013, 369 program participants gave 7,000 hours of volunteer time to 121 partner organizations of Big Reach.
For the 2013 Christmas toy distribution, families were asked to pay a $5 registration fee. The 335 families who participated contributed $1,675 to the Pay It Forward program that helps people with rent, utilities and prescriptions.
Wallace said the Life Enrichment program, coordinated by Doreen Gustafson, who began volunteerng in 2009, will teach participants various skills to improve their lives. Couponing, nutrition and career investigation are among the sessions. "Learning various life skills will help our families better themselves," Lewis said.
In 2011, Wallace said, Big Reach began the Food for Thought backpack program. Wallace and Lewis said the center learned that some students went hungry over the weekend, returning to school Monday with hunger pangs that interfered with their studies. On Fridays, the weekly backpack program provides 100 students in kindergarten through 12th grades in United and Leetonia school districts with "kid friendly" food to eat over the weekend. Since it began, the program has distributed 5,600 backpacks.
Another initiative, the food rescue program, helps keep Big Reach's food shelves and freezers stocked. "We get a bit of everything ... baked goods, soups, pizza," Lewis said.
Each week, the Big Reach Center collects about 1,500 pounds of good food from local restaurants, bakeries and hospitals that would otherwise discard the food for various reasons. Among contributors are Panera and Olive Garden.
Lewis said the center, which has commercial freezers, now distributes meat on a regular basis.
Wallace, the middle of three Lewis daughters, said the center has seen a "changing demographic." "There are a lot of working poor," she said. "About 85 percent of our clients are adults in food- insecure households," Lewis said.
The success and ability of Big Reach Center to help so many people is "bitttersweet" for Lewis. He said he is gratified the center can assist people but worries that so many need help. But both he and Wallace follow the idea "God is in control" — God inspired the idea for the center a few years before the economic crisis. "It was ready to roll when it was needed," Scott said.