On the road to conquering cancer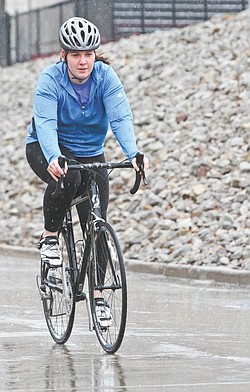 Photo
William D. Lewis | The Vindicator — YSU student Elli Stevens is preparing for a 70-day, 4,000-mile bicycle trip. She will depart June 1 from Baltimore and is scheduled to arrive in Seattle on Aug. 9.
HOW YOU CAN HELP
Who: YSU senior Eleanore Stevens
What: 4,000-mile bicycle ride for the Ulman Cancer Fund for Young Adults
When: June 1 through Aug. 9
How to donate: Contact Stevens by email ejstevens01@student.ysu.edu
For more information: http://4kforcancer.org/profiles/eleanore-stevens/ or http://4kforcancer.org/where-your-money-goes/
By JOANN JONES
One cold November night right before Thanksgiving, YSU senior Eleanore Stevens, a four-year member of the YSU swim team, was online looking for a half iron-man competition, a competition in which she would swim, run and bike. What she found, however, was a mission, one that would help people she knows — and others she doesn't — in their battles with cancer.
"I stumbled across this website called 4K for Cancer," Stevens said. "It's part of the Ulman Cancer Fund [for Young Adults]. This is the 13th year for the bike trips and the run they do."
What Stevens, known as Elli, stumbled upon was a 4,000-mile, 70-day bicycle trip from Baltimore to Seattle. She and 27 others in her group will get sponsors to raise funds for the nonprofit Ulman group, which has a mission to "enhance lives of young adults and their families affected by cancer: by raising awareness, providing support, educating, and inspiring hope toward the eradication of cancer."
"My goal is to raise $5,000," she said. "I've sent out letters to friends and family. I've put out the information on Facebook and Twitter, and I talk about it all the time."
Stevens, who is named after an aunt who died from cancer right before she was born, has had two grandfathers die of complications from cancer, too.
The trip, which begins June 1, takes the cyclists from Baltimore through Pennsylvania and New York, across northern Ohio, into Michigan and Indiana, and then into Chicago, where they will have time for sightseeing. From there the group goes to Wisconsin, Minnesota, South Dakota, Wyoming, Montana, Idaho and Washington. The group's itinerary has them arriving in Seattle Aug. 9.
"We have to take all back roads," Stevens said. "We're not allowed on the highway." Two vans also will travel with them in case of emergencies or if riders need support.
"Every day on our ride, we ride in memory of someone," Stevens said. "We have a dedication ceremony every morning for someone, and we even write people's names on the back of our calves as we ride."
"The dedication on the calves can be to anybody, so it can be a teammate or family member," she added. "It doesn't have to be somebody who had cancer."
Stevens is accustomed to competing in triathlons, where she has to swim, run and ride a bike, but has never ridden the distances she'll be required to on the trip.
"The distances we ride daily will vary," she said. "One day the ride might be 45 miles, and the next day it might be 100 miles. We'll have service days and rest days. On rest days we can do anything we want."
"What's nice is that some of the people in the group will get to visit places they've never seen," Stevens added. "Some of the out-of-state people will have the opportunity to go to Cedar Point when we get to Sandusky."
Stevens herself said she has been as far west as Iowa, but she is looking forward to visiting the northern states on the route, which will take them to Seattle.
Stevens' trip is one of five fundraising trips the 4K for Cancer throughout the summer. Four are cycling trips that end on the West Coast, and one is a running trip that starts in San Francisco and ends in Baltimore.
"Everyone in this organization is so amazing," Stevens said. "They give us T-shirts and biking jerseys as well as supply the bikes so that all riders have the same one."
"At all the host sites, food is donated," she added. "Most of our lodging is in community centers and with church groups as well as in hotels and in the dorms at UIC [University of Illinois-Chicago]."
Stevens has been preparing herself for the trip by riding her bike in the Youngstown area on nice days. Since her swim season ended the first week in March, she's been trying to bike in Mill Creek Park and on campus.
The reaction of her family and friends to her decision to make a 4000-mile bike trip was mixed at first.
"My friends were all like 'Are you psychotic?' But then they told me to have a good time," she said.
"My parents have always been amazing supporters," she added. "Their first reaction was, 'What can we do to get you there?''â"
Stevens, whose home is in Lexington, near Mansfield, said her parents do as much fundraising for her trip as she does.
"My father went to the grocery store the other day, and someone gave him money for me," she said with a smile.
Stevens has set up a blog for her mission, http://wherethehellisel.wordpress.com/, and has published her email, ejstevens01@student.ysu.edu, for anyone who has questions or who wants to donate.
Stevens said people who donate to her cause can see exactly where the money goes — http://4kforcancer.org/where-your-money-goes/ — and can see her individual profile, too: http://4kforcancer.org/profiles/eleanore-stevens/.
"I am so excited for this adventure," said Stevens, who postponed her summer graduation until December to make the trip. "I'm blessed that I am able to make a trip like this, and it's very humbling that I can pursue my dreams while helping others."