Walking Jesus' footsteps in Campbell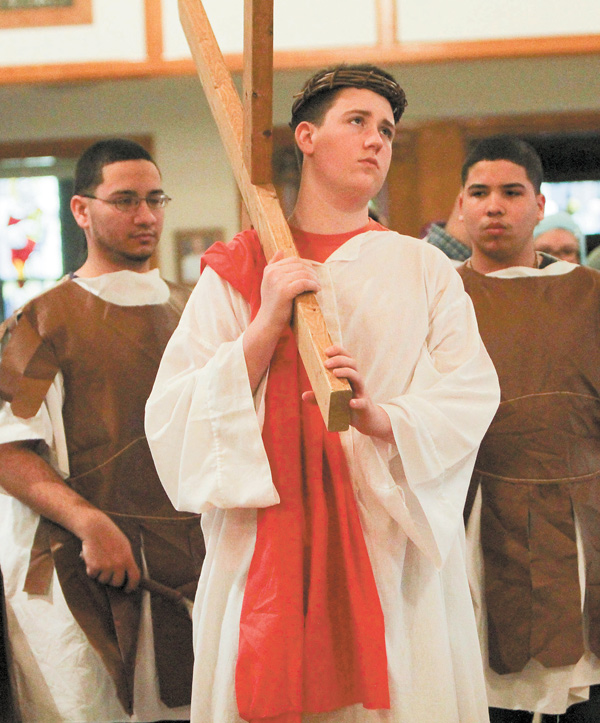 ---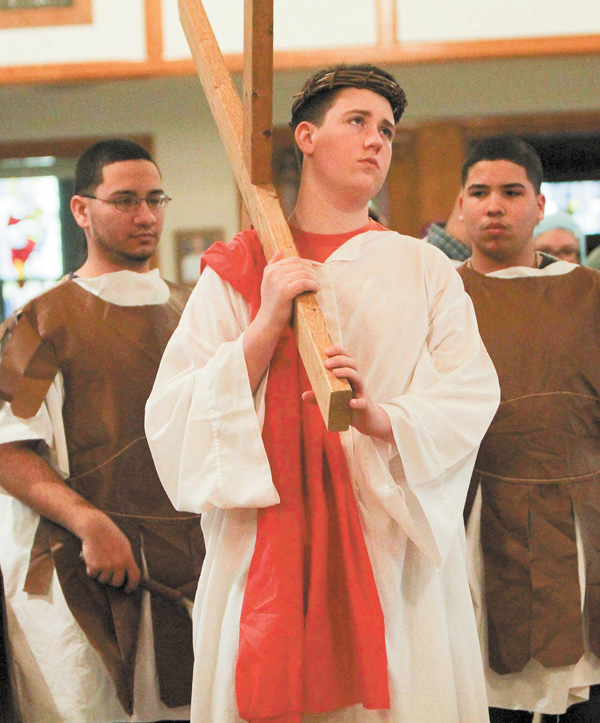 Photo
Jesus, played by Jacob Sebest, 17, of Campbell, carries the cross while being whipped by guards, Jan-carlos Lebron, 17, left, and Christian Nieves, 15, during a rehearsal for live Stations of the Cross at St. John the Baptist Church in Campbell. The event will be at 1 today.
By LINDA M. LINONIS
linonis@vindy.com
CAMPBELL
For Christians, Good Friday holds a special place in their faith.
It is a solemn day to remember Christ's sacrifice on the cross and how that act took away sins. The events of Good Friday were destined so that Christ's Resurrection would give the promise of salvation.
Members of Christ, The Good Shepherd Parish will offer a visual presentation of their faith with live Stations of the Cross outdoors at 1 p.m. today.
The journey will begin at St. Lucy/St. Rosa de Lima Church, 394 Tenney Ave., off 12th St., making a left on Reed Avenue to walk one block then a right onto 13th Street, ending at St. John the Baptist Church, 159 Reed Ave. At St. John at 3 p.m., the Passion will be read in Spanish and then in English at 6:30 p.m.
The Rev. Shawn Conoboy, pastor, said the live Stations of the Cross began in 2010. "They are a dramatic presentation of Christ's trial and crucifixion in Jerusalem," Father Conoboy said. "The live version allows the scenes to be acted out."
The 14 Stations of the Cross are primarily a Catholic devotional practice. The first station focuses on Jesus' being condemned to death. The stations follow Jesus' journey, recounting his encounters with his mother and Veronica, his three falls, when he is stripped of clothing, nailed to the cross, dying on the cross, being taken down from the cross and being laid in the tomb.
Inside churches, the stations are presented in plaques, paintings and sculptures. Some churches have outdoor stations.
Father Conoboy said live Stations of the Cross are presented in a number of cultures. "For us, it's an opportunity to live out cultural history," he said. The parish has a Hispanic membership, though live stations are not exclusive to that culture.
Stations of the Cross are often said on Good Friday when Catholic churches have no Mass. They also are a devotional during Lent.
Father Conoboy said for those who witness the live stations and participate in them, he hopes that "we place ourselves in that historical moment and appreciate the story and its importance in our lives."
Because Jesus died to wipe away the sins of the world and give people eternal life, the Stations of the Cross should inspire Christians "to live moral and ethical lives despite opposition or difficulty," Father Conoboy said. "If we follow Jesus' example, we should not be afraid to show our faith to others."
Jose Orozco, a four-year church member, coordinates the live stations. He said he brought the idea from the church he belonged to in another state.
"It's a very moving experience," Orozco said. "It's a way to live out our faith."
Orozco said it takes about 15 people to present the stations. An opening prayer will start the presentation, which will be moved forward by a narrator.
He hopes community residents will join church members to witness the presentation. "It's a way to come together as a community, Orozco said.
"The live stations are a way to remember Christ's sacrifice for us," Orozco said.
The parish will have blessing of Easter food baskets at noon Holy Saturday at St. Joseph the Provider Church, 633 Porter Ave., and Easter vigil bilingual service at St. John. Easter Sunday Masses, all at St. John, are scheduled at 8:30 and 10:15 a.m. and in Spanish at noon.