Tarzan swings into Boardman Performing Arts Center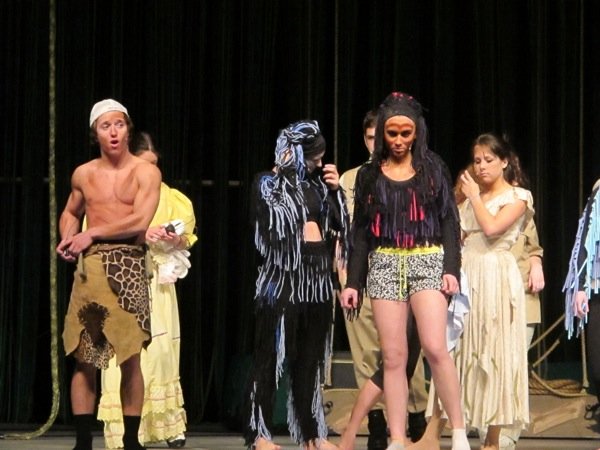 ---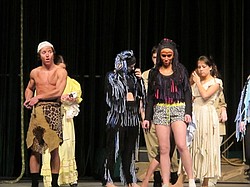 Photo
Neighbors | Tim Cleveland.Jared Vanasdale (Tarzan, left) sang some of his lines during sound check for the play "Tarzan."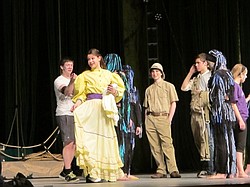 Photo
Neighbors | Tim Cleveland.Sarah Demetruk, who played the role of Jane, sang some of her part during dress rehearsal for the play "Tarzan."
By TIM CLEVELAND
After the success of prior plays "How to Succeed in Business Without Really Trying," "Cats," "Damn Yankees," "Crazy For You" and "Phantom of the Opera," the Boardman Drama Guild presented its next play April 4-6 at the Boardman Performing Arts Center, Disney's "Tarzan."
Boardman Drama Guild Director Anne Bott said "Tarzan" is much different from the group's prior performance.
"We did 'Phantom of the Opera' last fall, which is obviously very different from Disney's 'Tarzan,' so we just decided to do a 180 and do something different," Bott said April 1 before a dress rehearsal. She is in her third year as director. "We've never done a pop show like this, so we decided it would be fun for kids to come see. There's a lot of flying involved. We brought in a company from Las Vegas [Flying by Foy] to teach our students how to fly. They set up all the equipment and rigging."
There are 37 students performing in the play, plus 20 band students in the pit orchestra and 25 techs.
Bott said prior plays have drawn an average of 600-700 per performance and she expected about that number of people to attend "Tarzan" in the 1,485-seat Boardman Performing Arts Center to see the two-hour play.
Playing the title role was Boardman High School senior Jared Vanasdale. "Tarzan" was his fourth play. He has been acting for two years and was the lead role in "Phantom of the Opera."
"Jared's an incredible singer," Bott said of why Vanasdale earned the lead role. "He's a natural actor. He's wonderful. He played the 'Phantom in Phantom of the Opera,' as well."
Vanasdale said he began acting after watching his brother perform.
"My brother [John] did it and he said he loved it, so I thought I'd give it a try and I loved it too," he said.
Vanasdale was asked what he enjoys about acting.
"Getting to act like something else, something ridiculous, and giving me a break from being myself and you can just do whatever," he said.
The role of Jane was performed by senior Sarah Demetruk. She said acting has helped her break out of her shell.
"I've always been really kind of shy, and this has been a way to just let it out," said Demetruk, who began acting in seventh-grade. "I've been really able to become more who I am and meet new people doing something that's totally fun and you can be crazy with."
Demetruk said she has gotten used to being up in the air, suspended by the wires.
"It's a first-time experience, but it's really fun, really awesome," she said. "You see everything from a whole new view. At first I was a little skeptical, but after the first day of practice I was just ready to keep doing it."
Bott said plenty of hard work goes into each performance the Boardman Drama Guild does.
"It's truly a part-time job," she said. "We rehearse three months for each musical and it's about 12 hours a week, so it's like a part-time job. During our tech week, which is what this is, we're here really long hours.
"We are a family, so they have a place where they can learn a lot of skills as far as theater goes – how to act, how to sing, how to dance, and the tech. [Tech Director] Nick [Opritza] teaches everybody who works for him in here how to run everything in the BPAC, so it's really wonderful. Of course, our musicians get to hone their skills as well."
Demetruk said she was pleased with the play as it was something different from what she was used to.
"I think it's a great show," she said. "The music's awesome by Phil Collins. It's very poppy. It's something we haven't necessarily done before, so it's a whole new level. The acting is really fun, very character driven."