Co-winners crowned in Holy Family Science Fair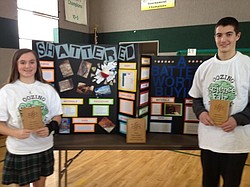 Photo
Neighbors | Submitted.Holy Family School seventh-grade students Katherine Kali (left) and Anthony Fire tied for best in show at the school's science fair.
By TIM CLEVELAND
With a tough field of 47 seventh- and eighth-graders at Holy Family School's Science Fair on March 22, seventh-graders Katherine Kali and Anthony Fire tied for best in show honors, each with a perfect score.
Independent judges scored each student using the Judge's Rating Card from the Ohio Academy of Science, which is also used by the Lake to River Science Day at Youngstown State University. Students are ranked on a scale from 1-40 points.
Kali, seventh-grader Angelina Sabatino and eighth-grader Caroline Scharf competed in YSU's Lake to River Science Day and qualified for the State Science Fair, which will take place on May 10 in Columbus.
"Every year I am surprised by the quality of the projects and display boards," said science instructor Charlotte Eskay. "The students always amaze me with their knowledge of their topics and their creativity. This year was no exception."
Kali's science fair project was titled "Shattered." She experimented with different types of glass to see which type would easily shatter and which ones would be more difficult to break. Katherine studied the different types of glass and learned that some contained plastic which made that type of glass much more durable and difficult to shatter. In Fire's project, "A Battery Worth Buying," a multimeter was used to see which pennies and nickels would produce an electric current. He measured the voltage for each. Fire then repeated this method using stacks of coins with white vinegar and apple cider vinegar.
Both Kali and Fire were happy that they won Holy Family's Science Fair, though the ideas for their respective projects came from very differnet places.
"We were eating dinner and our dining room is surrounded by glass," Kali said. "I asked for help in choosing a topic, and my dad said why not do something with glass. When I won best in show, at first I was shocked. I thought an eighth-grader would win. It's a huge accomplishment. It's awesome."
"I knew I wanted to do something on electricity, and I went online and found this project using coins and vinegar to make a working battery," Fire said. "I felt pretty good when I won. I was surprised."
Eskay said doing the projects taught her students many lessons they can use in the future.
"Preparing for a science fair involves so many lessons – organizing, researching, predicting, measuring, experimenting, documenting, defending conclusions in an oral presentation - the list of skills involved is extensive," she said. "These are not just science skills, but life skills as well. Through the experiences of following the scientific method, students should be able to apply the skills practiced and learned to real life situations, especially in the job world."