Cruze named best diesel car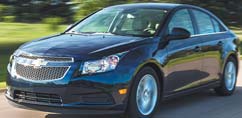 ---

Photo
The Cruze Clean Turbo Diesel has been named Diesel Car of the Year by Diesel Driver magazine.
SEE ALSO: GM to ask court for lawsuit protection
YOUNGSTOWN
When workers at the General Motors plant in Lordstown learned they would be building a diesel version of the popular Chevrolet Cruze, it was a pretty big deal.
"There was speculation well in advance," said Glenn Johnson, president of United Auto Workers Local 1112. "It was taken with enthusiasm from the very beginning."
That excitement apparently has been matched by consumers.
A year after the first 2014 Cruze Diesels began rolling off the lines, readers of The Diesel Driver magazine have named the 2014 Chevrolet Cruze Diesel best diesel car of the year.
The Cruze, capable of traveling 717 miles on a single tank of fuel, received 59.3 percent of the 11,030 votes cast to take top honors in the magazine's annual competition that featured the Volkswagen Passat, BMW X5, Jeep Grand Cherokee and others.
"The Chevrolet Cruze Diesel, with a market-leading 46 mpg highway [5.11 L/100 km] is clearly setting the pace for diesel-powered cars in the United States," Jonathan Spira, editorial director of The Diesel Driver, said in a statement. "The message from our readers is clear. Diesels are back, and Chevrolet is in the forefront."
Chevrolet finished with 45 percent of the 11,161 votes, beating out Audi, BMW, Jeep, Mercedes-Benz, Porsche and Volkswagen for best diesel manufacturer.
The recognition came as no surprise to Johnson. Having driven the car himself, he was impressed by both the Cruze Diesel's performance and its fuel efficiency.
"It gives you the torque and power of a V6, with huge fuel economy," he said.
The latest public accolade for the Cruze came just days after General Motors announced a face-lift for the car's 2015 model year. The company is unveiling the upgrades — including revised exterior styling, more interior convenience and greater connectivity — at this week's New York International Auto Show.
The updated lineup will include the Cruze Diesel.
Jessica Caldwell, senior analyst for Edmunds.com, said it wasn't clear from the start that a diesel version would fit into the Cruze family.
"I think that overall it was a bit of a stretch," she said. "So, I think Chevy had to kind of talk to people."
The message centered on technology and fuel efficiency, and the market responded, Caldwell said. And Wednesday's award will further boost the Cruze's profile, with production of the new model tentatively slated to begin this fall.
"It lends credibility to a model," Caldwell said. "Getting people aware of the product, I think, is an important step."