Published: Wed, April 16, 2014 @ 12:00 a.m.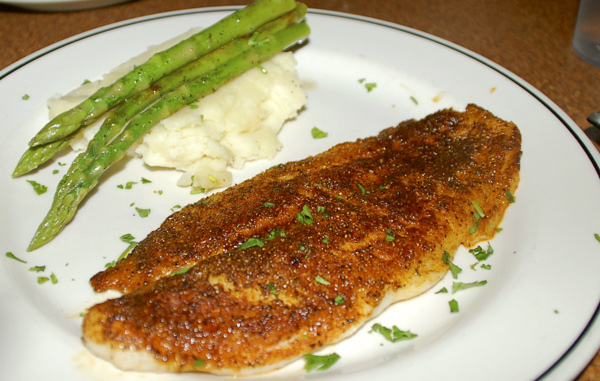 Photo
Blackened grouper served with mashed potatoes and asparagus.
If You Go...
Where: Margherita's Grille
Address: 728 N. State St., Girard
Phone: 330-545-2424
Hours: 11 a.m. to 9 p.m. Monday through Thursday, and 11 a.m. to 10 p.m. Friday and Saturday
Website:www.margheritasgrille.com
By Erin Kouvas
Walking into Mar- gherita's feels like walking into your friend's house. You truly just feel comfortable, which is why I think a lot of people are drawn to this spot. My friend and fellow yoga instructor, Shannon Shugart, has taken me to this restaurant in Girard, and it's my first time here.
I soon learn that the restaurant is owned by Jorge and Amy Carreno, a husband-and-wife team, and that Jorge is also the chef. They opened in June of 2007. The couple both have restaurant experience, so Amy's dad, who's in real estate, let them know when the restaurant went up for sale. So they went for it. Owning a business is never easy, but if you're willing to work, it is always worth it. That is, if it is also your passion.
And Jorge has a history with food. His mother was in the food industry as well and cooked a lot from home. Jorge was the youngest child and often at home alone with his mother. They spent a lot of time in the kitchen, and he helped her while she made everything from scratch.
Jorge arrived in the United States in 2003, and while working in prep at a restaurant, he realized that he really did know everything he needed to have a restaurant of his own.
Jorge also was inspired by Chef Henry Barrios, who was head chef at Alberini's in the '80s and '90s, and who helped Jorge with techniques, training and some recipes as well as back of the house operations.
Today, Jorge says he finds his passion "every day, every time I wake up, that is my inspiration. Family back home, my new family here, my wife and two kids, friends, customers, co-workers. It is a circle that makes my environment an inspiration."
And Jorge said he wants customers to feel the same way Amy's grandfather used to make him feel when they went to see him." When they are here, we treat them like family." No wonder it feels like an old friend's house as you enter. That energy starts in the heart of the restaurant: the kitchen.
I asked my friend Shannon why she comes here and what she gets. She said that what keeps her coming back is the service. The servers are fantastic and know what to recommend. And, she added: "It's a feel-at-home kind of place. The food comes out fresh and hot, and I've never had a disappointing meal. Everything is so good."
Her favorite appetizer is the fresh greens pan-fried with garlic for 6.99. You can add the fried Hungarian hot pepper for $1. It was delicious. We also shared the hand-cut calamari, lightly breaded and deep fried to perfection, tossed with Thai chili sauce, for $6.99. Excellent.
I think that people may have wondered who was eating all of this food when the plates kept coming to the table. Among other things, we also ordered the Blackened Grouper for Shannon, who immediately labeled it delicious and mentioned that it was a great portion size. And I had the gnocchi covered in creamy pink sauce with a vodka kick for $12.99, and it was also a great portion size and so comforting like a good gnocchi is supposed to be.
I asked Jorge what was next for them. He said that they are excited about the new parking lot and they are also looking forward to a possible patio in the summer. But as he noted in one of my favorite quotes: "If you want to make God laugh, tell him your plans."
He is quite a likeable guy, I must say. Next time, I'd love to meet Amy, his wife, as I'm sure she is just as lovely. I wanted to know what Jorge thinks is important to get across to people who don't know them yet. He said: "it's important that you're taking the time to write this article about our little restaurant. It's important that the customers come to see us. It's important all the extraordinary help we have day by day. But the most important is the Lord gives us the chance to meet each other."
How can you not support that? Served up with good food and a margarita, it's a celebration of life by way of food. Amen.
About Food:30
We are offering a glimpse into local restaurants and eateries by reviewing their food offerings. To recommend a location, send an email to society@vindy.com.