Boy attacked on Warren bike trail, left to walk naked down street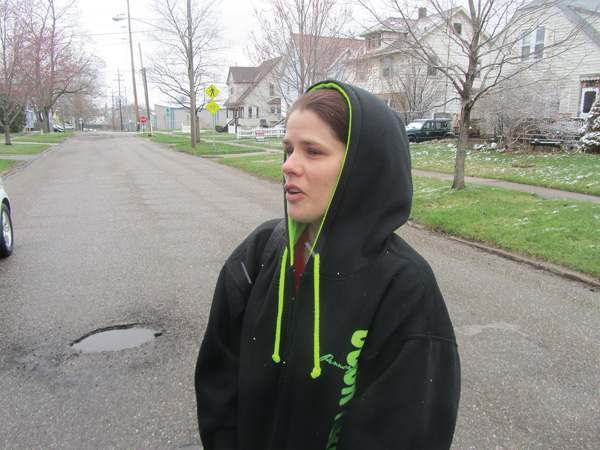 ---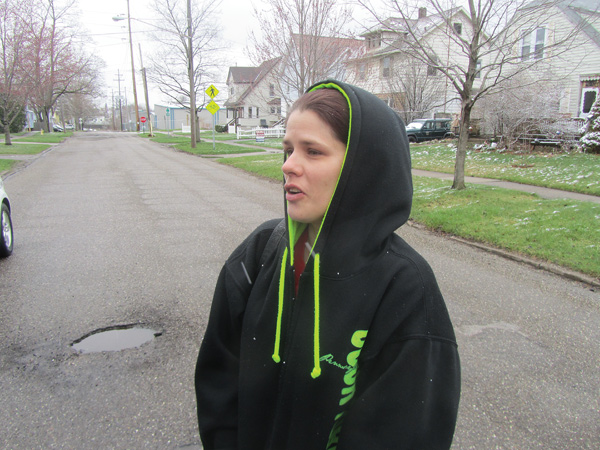 Photo
Heather Long of Warren stands on High Street Northeast near the Warren Greenway bike trail Tuesday. Her 14-year-old son was assaulted and robbed of his possessions and his clothes on the bike trail Monday. Police are investigating.
By Ed Runyan
WARREN
Kalli Ioannou was shocked and greatly upset when she saw a 14-year-old boy walking up a residential part of High Street Northeast on Monday afternoon bruised and naked, covering his privates with his hands.
She found out that he had just been assaulted and robbed of his possessions and clothes on the nearby Warren Greenway bike trail near Charles Avenue Northeast by three older males, two of whom he knows.
Ioannou was close to the house of her mother, Franzi Ioannou, so she rushed there and got a blanket to cover the boy.
"He was a little boy. He was stark naked. We were just shocked," Franzi Ioannou said Tuesday. "He was in shock, I think."
Police are investigating the 4:40 p.m. attack but have made no arrests, Lt. Jeff Cole said. Police will interview the boy today.
Heather Long, the boy's mother, said her boyfriend took the boy to ValleyCare Trumbull Memorial Hospital, and he has a concussion. He also has scrapes and bruises on his head and face.
Long said she believes her son's physical wounds may be less serious than the mental ones.
"He's quiet," she said. "I think it's done more emotionally that he doesn't want to admit."
She said her son was walking to a friend's house.
A police report says the boy was walking with the three older males and "for unknown reason, he was punched in the face and then kicked, and when on the ground he was robbed of all his clothes and his cellphone. The suspects also took his tennis shoes."
Long said her son doesn't remember everything but remembers Ioannous giving him a blanket and helping him.
"He's confused about the whole situation," Long said, adding that a police officer told her the boy seemed dazed and was "saying things that didn't make sense."
Long went from her home on the West Side to High Street on Tuesday to see where the incident happened, and was able to speak to Franzi Ioannou and thank her on behalf of her son.
"I just want to say thank you. He's really grateful," she told the woman.
Long said it appears that after the attack, her son was walking toward her boyfriend's house, which is only a couple of blocks away.
Long said she wants to see the three males arrested and charged in the attack.
"They just did it to be punks, straight up punks," Long said, adding that her son is barely 100 pounds, and the three attackers are 17 to 19 years old and much larger than her son.
None of his clothes would have fit them, she added.
Franzi Ioannou said she's concerned about the couple of attacks that have been reported on the bike trail in the area north of East Market Street and just west of the hospital.
"That bike trail is not a very good thing," Franzi Ioannou said, adding that it seems to have increased the number of people walking through the neighborhood, both youths and adults.
Franzi Ioannou told Long she should be proud of her son.
"He was the nicest boy," she said.
"We all felt so bad. My daughter was crying."