Indictment clears up charges against woman in car during Warren killing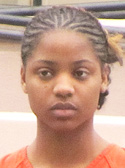 ---

Photo
By Ed Runyan
WARREN
It's a little clearer now why Regan Jelks, the 21-year-old woman from Warren and Detroit who was riding in the car the night Taemarr Walker was killed, is charged in his death.
On Monday, before she was arraigned in Trumbull County Common Pleas Court, officials provided a copy of her indictment, which explained the two charges she faces — involuntary manslaughter and improperly handling firearms in a motor vehicle, both felonies.
The indictment says Jelks "did knowingly transport or have a firearm in a motor vehicle in such a manner that the firearm is accessible to the operator or any passenger without leaving the vehicle."
The involuntary-manslaughter charge says Jelks caused the death of Walker "as a proximate result of ... committing or attempting to commit" the felony of improperly handling firearms in a motor vehicle. Jelks also is indicted on a misdemeanor count of the same offense.
If convicted of involuntary manslaughter, she could get 11 years in prison.
Jelks was indicted Thursday. On Friday, she was brought to the county jail from Detroit, and early Monday, she was arraigned by Judge Peter Kontos.
She entered a plea of not guilty, and Judge Kontos ordered her held in the jail in lieu of $250,000 bond. She told the judge she plans to hire her own attorney.
Before Judge Kontos set bond, Chris Becker, assistant prosecutor, told the judge that Jelks had been arrested in Detroit and has ties to South Florida.
Becker said he doesn't know if Jelks has ties to Trumbull County, though her indictment says she has Warren addresses on Woodbine Avenue Southeast and Niles-Cortland Road.
Jelks was a passenger in the car driven by Walker when Warren Patrolman Mike Krafcik shot and killed Walker during a 1:18 a.m. confrontation on Risher Road Southwest. Krafcik was not injured.
Jelks can be seen on police video screaming, "Please don't kill me!" as she was led away from the car Walker died in. The video came from the dash-cam in the cruiser of the first officer to arrive after Walker had been shot.
A county grand jury refused to indict Krafcik of any wrongdoing in Walker's death, according to a statement released Thursday by Dennis Watkins, county prosecutor.
The statement said Jelks was in the passenger seat of the car when Walker drove onto Risher and got stuck in the ditch while trying to avoid a tow truck.
Krafcik was there assisting a tow-truck driver who was preparing to tow an abandoned and crashed vehicle from the ditch on the other side of Risher Road.
The statement said Krafcik saw an assault rifle in the back of the car when he walked up to it. He ordered Walker numerous times to put up his hands, but Walker picked up a gun from under the driver's seat and was holding it when Krafcik shot him, the statement said.
The statement makes no mention of anything Jelks did during the confrontation, but it says the II Hype Lounge on Mahoning Avenue closed early that night based on information indicating Walker was on his way to "shoot the bar up." Walker was wearing latex gloves when he was killed.
Meanwhile, Walker's older brother, TaShawn Walker, 26, of Baytown, Texas, was in Judge Kontos' court Monday for a hearing on his murder charge in the death of Richard Rollison IV, 24, of Niles.
Rollison was killed at a West Market Street gas station almost exactly one week after Taemarr Walker was killed.
Court officials say TaShawn Walker has hired Atty. Lynn Maro of Youngstown to represent him.