Ohio State's Craft draws at crowd at Eastwood Mall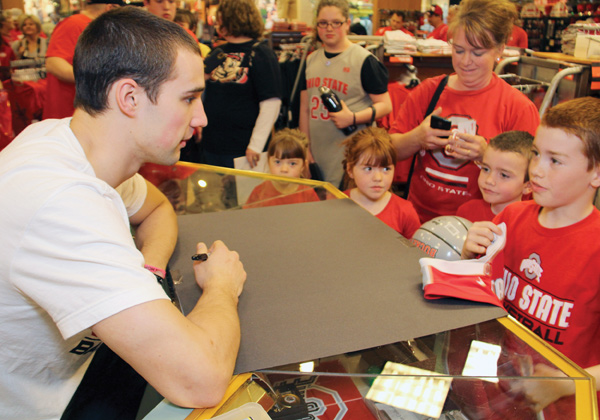 ---

Photo
Former Ohio State University basketball player Aaron Craft, left, talks basketball with Cody Cope, 10, far right, and his siblings, from left, McKenzie, 5, Madie, 9, and Chance, 7, on Sunday during an appearance at the Everything Buckeyes store at Eastwood Mall in Niles.
By Ryan buck
NILES
As always, the Easter bunny managed to draw a formidable crowd inside the Eastwood Mall.
But not even the upcoming holiday's corporate mascot could come close to the crowd 100 yards away at the Everything Buckeyes store Sunday afternoon.
Hundreds of people, some waiting over an hour in line, arrived to get autographs and pictures with graduating Ohio State point guard Aaron Craft, who returned to the area for the first time since he watched his father, John, coach high school football.
He is a two-time Big Ten defensive player of the year and this year was given the same award by the National Association of Basketball Coaches. He helped lead the Buckeyes to a No. 1 ranking in 2011, an NCAA tournament Final Four appearance in 2012 and a trip to the Elite Eight in 2013.
The Findlay native holds every school record affiliated with assists, steals and wins as a player and did it all with a steadfast demeanor that endeared him to so many.
What's made him arguably the most popular basketball star in Ohio State history transcends his on-court accomplishments. He will graduate this semester on a track toward pre-medicine. If the three-time Academic All-American ever makes a public misstep in the future, it will be his first.
Whether it was a grandmother wanting to give him a hug, a Wisconsin fan who showed up just to shake his hand or a star-struck basketball beginner who had every Buckeye game recorded and even named his 4-H pig after him, Craft's appeal is limitless.
"I'm just enjoying it," Craft said of the legions of fans he's greeted over a statewide autograph tour. "I didn't come to Ohio State trying to do anything spectacular. I tried to come and make a difference on a team that Coach [Thad] Matta obviously had going in the right direction. In that regard, I just wanted to jump in head-first and attack it. I think I've done a pretty good job."
The past few seasons have seen Craft's life on the court, and off, documented as intently as any college basketball player ever. His engagement to his longtime girlfriend last fall was a national story. Even his roommates become mini-celebrities in Columbus as TV crews filmed weekly dinners.
"The people that I lived with helped a lot, my fianc e helped a lot as well as my family," he said. "Having a group of people and organizations where I can get away from basketball really kept me grounded. They helped me through the highs and the lows."
Since the Buckeyes loss to Dayton in last month's NCAA tournament, Craft's finally been able to reflect on his career while preparing for the NBA draft combines later this spring.
"Most of the things are with the teammates and doing stuff with those guys," he said. "It's different now. I'm out there training by myself, you lift by yourself and you miss those teammates you had. It's something that I'm always going to remember and it's something I'm always going to have in my mind."
Even with a wedding date in the future and a potential choice between a professional basketball career and medical school, he says this week's workouts in Columbus and upcoming graduation are at the forefront.
"There's a lot of uncertainty involved in [the NBA Draft] and I just want to enjoy it," he said. "It's a once-in-a-lifetime experience regardless of what happens these next couple months. I'm trying to make the most of it."