Curbstone Coaches honor DiFrancesco, Cash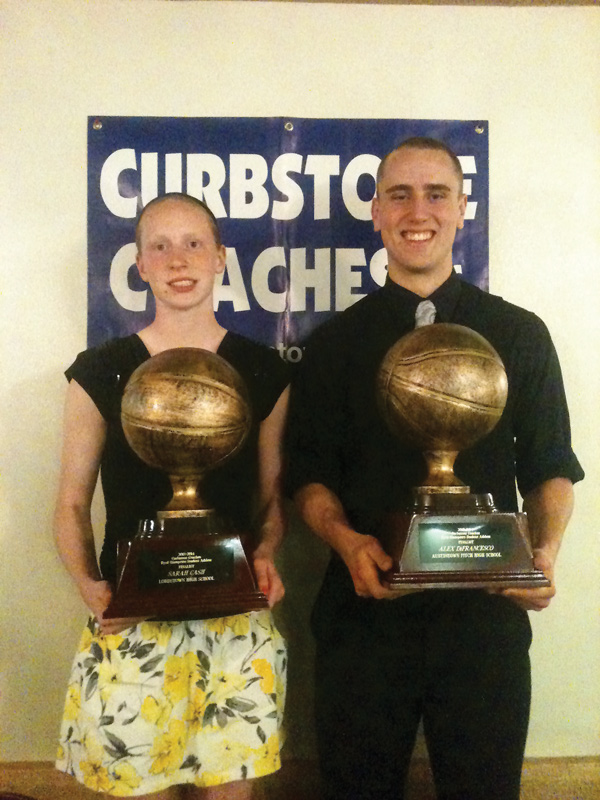 ---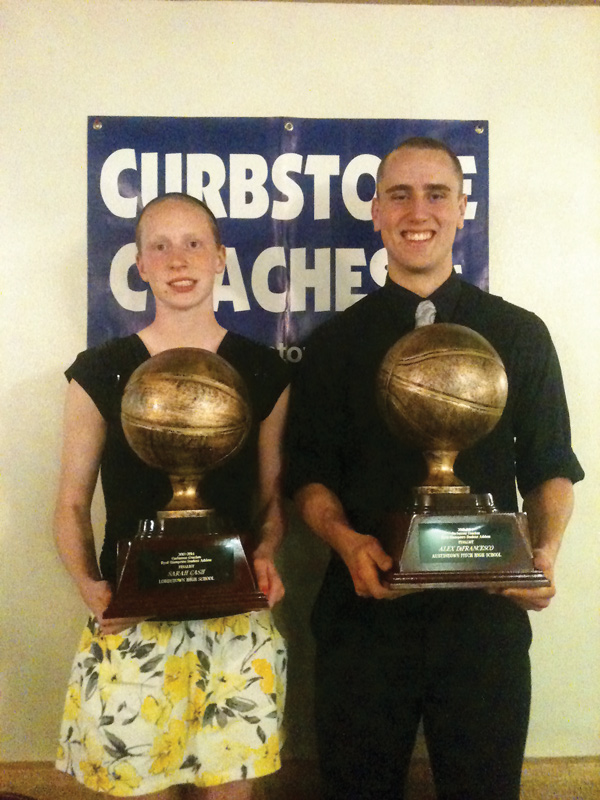 Photo
Sarah Cash of Lordstown and Alex DiFrancesco of Fitch pose with the awards they received after being named as the girls and boys basketball players of the year by the Curbstone Coaches Association. The awards presentation took place Sunday at the organization's annual all league recognition banquet at The Georgetown in Boardman.
Basketball standouts earn 'Byrd' Giampetro scholarships
By Greg Gulas
BOARDMAN
While Alex DiFrancesco was leading his Austintown Fitch Falcons to a record-tying 18 regular season wins, Lordstown's Sarah Cash was busy collecting her fourth consecutive all-state honor.
With a myriad of athletic accomplishments between both student-athletes already well-documented, it was their extracurricular activities and volunteer work away from the hardwood that helped them earn this year's "Byrd" Giampetro scholarship awards.
Presented by the Curbstone Coaches during Sunday's annual all-league recognition banquet at the Georgetown, DiFrancesco and Cash both sit atop their respective class rosters with perfect 4.0 cumulative grade point averages.
For their efforts they will earn a $1,000 scholarship.
"Both honorees have proven that they are as versatile away from the court as they are when playing a game. Their athletic accomplishments pale in comparison to what they do for others and the amount of time they set aside in order to volunteer for such noteworthy causes," Sam Rogers, banquet chairman said.
DiFrancesco, a three-year letterwinner in both basketball and baseball, is a member of the school's National Honor Society, Interact Club and president of its Spirit Club and will attend Ohio State University this fall where he is expected to study biology.
He hopes to become a chiropractor.
Both his coach, Brian Beany and uncle, Dan Stryffler were members of the school's previous two regular season 18-win teams.
"It's very special to be part of a record-setting team, especially when your coach and uncle were members of the other two record-setting teams. Coach Beany was my elementary school gym teacher and my class was just getting to the varsity level when he took over during our sophomore year," DiFrancesco said. "He's been like a second father in basketball to me, implementing his system back then and letting us grow the past three years."
The other three finalists for the award were Peyton Aldridge of LaBrae, Jarret Vrabel of Canfield and Jacob Wolfe of Poland.
"To be seated next to the other three finalists was an awesome feeling. I played against each of them, all were excellent players and any one of us could have won the award tonight," he added.
Cash earned all-state honorable mention laurels as a freshman and sophomore, was a first-team selection as a junior and earned third-team honors this past season.
She's tutored special education students, has volunteered at Park Vista Retirement Center and Briarfield Nursing Home since her freshman year and has been honored with "Student of the Year" awards in both chemistry and statistics.
Also a member of the National Honor Society, she's earned academic excellence awards in pre-calculus, biology and English as well, yet is still undecided on her college.
"I'd like to study either mechanical or bio-medical engineering, but want to play basketball as well. I need to thank my coach, Dave Smith, because he always believed in me and was there to encourage me when I was down on myself," Cash said. "He was very helpful not only to me, but the entire team."
Other girls' finalists included McKenna Shives of Struthers and Melissa Thomas of Hubbard.
YSU women's basketball coach John Barnes served as guest speaker.
More like this from vindy.com