Stadium Drive hosts fourth-grade chorus concert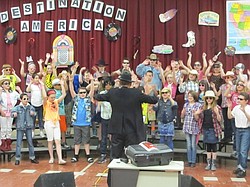 Photo
Neighbors | Tim Cleveland.Performers in Stadium Drive Elementary's fourth-grade chorus concert threw their hands up during a jazz song.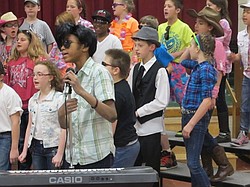 Photo
Neighbors | Tim Cleveland.Brandon Buchanan sang Tooty Fruity as Little Richard during Stadium Drive Elementary School's fourth grade chorus concert.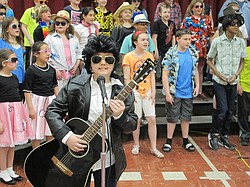 Photo
Neighbors | Tim Cleveland.Stadium Drive Elementary fourth-grade student Lucas Beeman performed as Elvis Presley during the school's chorus concert.
By TIM CLEVELAND
On April 3, Stadium Drive Elementary hosted its fourth-grade chorus concert itiled "Destination America," about the musical roots of the United States.
The 59-student choir performed 10 songs, ranging from jazz, blues, rock and roll, surf and rap. Some of the songs were "The Blues," "That's Why They Call it Country," "Tooty Fruity," "Blue Suede Shoes," "Wipe out" and "It's as American as Rock and Roll."
"These boys and girls are amazing," said Boardman schools elementary music specialist Dean Wilson, who teaches at all four Boardman elementary schools. "They put this show together in only eight rehearsals and they love to sing so much they stay after school and practice with me from dismissal time until 3:30 in the afternoon every Wednesday. These boys and girls love to sing or they wouldn't be here."
One of the students who had a solo performance was Lucas Beeman, who dressed as Elvis Presley with a wig, leather jacket and sunglasses.
"What we did was we needed to dress as like the '50s and we got real stars like Little Richard and me [as Elvis]," he said. "We have rock and roll, we have country and we have jazz and we have the blues."
Wilson participated as well, dressing up as a blues artist, with dark-colored clothes and wearing a fedora and sunglasses.
"Everybody was to come dressed as one of their favorite performing artists, whether it was jazz, rock and roll, blues, surf, so you'll see a wide variety of things from Hawaiian shirts to leather jackets to white T-shirts to poodle skirts," he said. "It has a little bit of everything."
Wilson helps the students at Stadium Drive Elementary do three spring concerts, plus three more at West Boulevard Elementary. Near Christmas, he helps put on concerts at the other two elementary schools, Market Street and Robinwood Lane.
Wilson said the students involved with the choir are able to learn many lessons.
"They get a lot of fun, they get a little music history because they learn the background of the roots of American music," he said. "They learn things about teamwork, we get to put to practice and apply the skills of reading music and music literacy that we learn in our classroom. We apply those skills as we're learning the music for our choir productions."