Sports Clips hopes to cut out the competition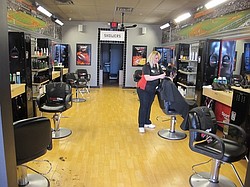 Photo
Neighbors | Tim Cleveland.A female customer got her hair worked on at Sport Clips, a new sports-themed barbershop in the Boardman area.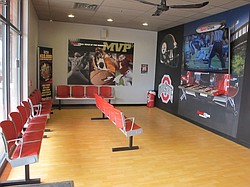 Photo
Neighbors | Tim Cleveland.A view of the waiting area of Sport Clips, with its stadium-seating and 80-inch television.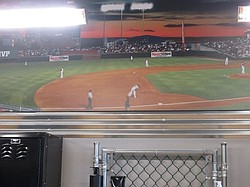 Photo
Neighbors | Tim Cleveland.A baseball mural lined the top of the wall at Sport Clips.
By TIM CLEVELAND
With barbershops making a comeback after falling far behind salons, a new area franchise business hopes to keep that trend going.
Sport Clips, located at 1320 Boardman Poland Road, opened its new 2,500-square-foot location Dec. 26 and had its ribbon-cutting ceremony at the end of February. The Austin, Tex.-based company has nearly 1,200 locations nationwide and just started opening locations in Canada. The local franchise owner is Liberty native Rick Camardo,
"It's been an incredibly rapid growth," he said. "They went from zero to 500 stores in five years, then from 500-1,200 in the last few."
Camardo said after a slow start the business has been booming.
"We kind of had a soft opening because of the holidays and this winter's been horrendous," he said. "It's been going really well. We've been exceeding our numbers that we projected which is not only a positive because we've only been open a couple months, but also with this weather this winter."
Sport Clips puts a sports theme on the conventional barbershop. The facility has stadium seating in the waiting area with an 80-inch flat screen playing sports nonstop. There are eight hair-styling stations with four 40-inch TVs lining the walls in that area. The walls are lined with paintings of Pittsburgh Steelers and Cleveland Browns helmets and sports murals.
"We cater to men and boys and it's really a great kind of sports theme," he said. "There's always sports on [the TVs]. It's more about the experience. Our special product is called the MVP. That's where the gentleman or lady gets a haircut and that's followed up with a hot towel treatment on your face. While you're having the hot towel there's a massage done to the pressure points area in your head and neck. When you return back to the chair that's followed up with a shoulder massage. It's a whole process. We try to pamper and cater to men and still give them a special treatment even though we're aware of their schedules and the fact a lot of times guys don't have a lot of time for haircuts."
Camardo said a dissatisfaction with area hair cutters prompted him to consider opening his own business.
"My father was a local barber and he always cut my hair," he said. "He passed away four years ago and my brother and I started going out looking for places to get a haircut and really weren't happy with what we were finding. My wife Cindy and I were vacationing in Florida and ran into one of these [Sport Clips locations] down there and I liked it a lot. I started talking to the manager there and met the owner. They kind of convinced me to bring the franchise here locally."
Camardo's next step was to travel to Austin and meet with Sport Clips senior management. He also spoke with an area native who works for the company.
"The marketing director for Sport Clips nationally and internationally is from Youngstown and her name is Martha England," he said. "We spent some time talking to her and she agreed it would be a great concept to bring to Youngstown."
With the first location doing well, Camardo said he has plans for others in the Niles-Howland area, plus he has the rights to locations in Stark County.