North Elementary hosts Father-Son Night

Photo
Neighbors | Tim Cleveland.North Elemengtary students shot a small ball at a basket during Father-Son Night.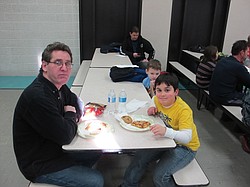 Photo
Neighbors | Tim Cleveland.John Hyland and his grandson Jett Slaina enjoyed a meal of pizza, cookies and chips during Father-Son Night.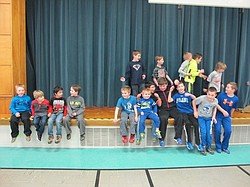 Photo
Neighbors | Tim Cleveland.Students at North Elementary's Father-Son Night in a calmer moment.
By TIM CLEVELAND
On March 13, North Elementary hosted its Father-Son Night on March 13 for students in grades kindergarten through four.
The event featured four game stations for the fathers and sons to play at. There was also pizza, cookies, chips, juice and water as refreshments, plus a basket raffle. Organizers expected about 150 people to attend.
One of the event organizers was Liz Klase and she described the game stations.
"We're doing a video game theme," she said. "They have four different stations. One of them is the NBA 2K basketball that they'll be playing dads against boys. Then we're doing an Angry Birds station and they'll be doing cornhole but tossing the bird into the hole. Then we have boxes set up that they have to knock down just like they would on the game. We have Minecraft where they'll be mining for jewels and then making a necklace and decorating picture frames. The last ones is Skylanders. We have two different games there. They're doing a frisbee toss, which is the disc. Another one is the volcano where they have to shoot out the bolts."
Klase said the inspiration for the event theme came from her son.
"My son is obsessed with video games and Minecraft, so we started off trying to get a Minecraft but we couldn't find enough stuff, so we broadened it with all different video games," she said.
John Hyland attended as the guest of his grandson Jett Slaina.
"I was his special guest," Hyland said. "He requested I come with him because he knows we like to have fun together. It seems like there's a lot of energy with the kids, that's for sure. It looks like fun."
"I like it," added Jett, who said he was having fun.
Klase said the event was a good opportunity for the fathers and sons to bond during the fun event.
"It's a chance for them to spend a little time together one on one," she said. "It's their time with their dad."