Mahoning officials defend county employees' raises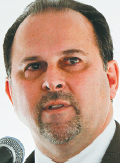 ---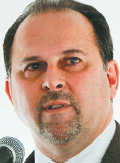 Photo
YOUNGSTOWN
Most of the 761 Mahoning County employee pay increases that exceeded 3 percent last year were either given to employees not paid out of the county's general fund, were restorations of sheriff's department concessions, or were raises that compensated for employees' beginning to pay their full 10 percent share of retirement contributions, county officials said Thursday.
The general fund is the county's main operating fund, where most of the sales-tax revenue goes. The general fund supports the courts, sheriff's, prosecutor's and coroner's offices and the central administration of county government.
On the May 6 ballot, the county commissioners seek continuous renewal of a half-percent sales tax that generates $15.5 million in annual revenue. Another halfpercent county sales tax already is continuous.
About $1 million of the county's sales-tax revenue is going into the county's debt-service fund this year.
The commissioners and other county officials were responding at the commissioners' Thursday meeting to a Sunday Vindicator article about the pay increases.
"We've reduced 289 jobs," from 1,957 in 2009 to 1,668 county employees in 2013, for a reduction of nearly $7.5 million in annual salary expenses during that time, said David Ditzler, chairman of the county commissioners.
Of those 1,668 employees, 535 were paid in full or in part from the county's general fund.
As electronic-funds transfer and other technologies have made many tasks less labor-intensive, county Auditor Michael V. Sciortino said his office has eliminated two accounting and two clerical positions in recent years for a total annual personnel cost savings of $219,125.
"Positions have been abolished. We haven't rehired," Sciortino said.
Despite those cuts, overall payroll and benefit costs in the county will have increased from $121.4 million in 2012 to $127.3 million budgeted for 2014.
In 2013, some county employees received two — or even three — raises. Some of the raises were due to promotions, and some were given because of additional duties the recipients assumed when departments reduced staff.
Of the raises exceeding 3 percent, 336 went to employees paid out of funding sources other than the county's general fund, such as the recycling division's landfill-dumping-fee revenue, or the lead-hazard-removal program's federal funding, or the sanitary engineer's sewer- and water-service fees, commissioners said Thursday.
Of that group of 761 increases, there were 207 increases listed in the sheriff's department, most of them having been restorations of concessions deputies had taken between 2008 and 2012.
"They've been the only county employees that have been in concessions the entire time," said Sheriff Jerry Greene. "The budget gets balanced on the backs of the Mahoning County Sheriff's Office and the Mahoning County sheriff's deputies."
There were 269 raises given to compensate for employees' beginning to pay their full 10 percent employee share of their salaries into the Ohio Public Employees Retirement System in a process known as a "PERS flip."
The county commissioners decided in 1988 to pay employees' contributions to PERS because that "PERS pickup" was cheaper than giving them pay raises.
The county has been providing "PERS flips" recently to make employee salaries more accurately comparable to those of their peers, Ditzler said. "We chose to do the flip to make government, in our eyes, more transparent," he said.
Because the pickup was given in lieu of a pay increase, it legally could be considered a raise, and therefore couldn't be taken away in most cases, county Prosecutor Paul J. Gains said in 2004, Ditzler recalled.
Gains said then that simply forcing the employees to pay their full PERS contributions without compensating pay raises would be an improper "nondisciplinary reduction in salary."
At that time, the county was going through a financial roller coaster as sales taxes were being voted on and off at the polls.