Little Falcons host Chili Cook Off fundraiser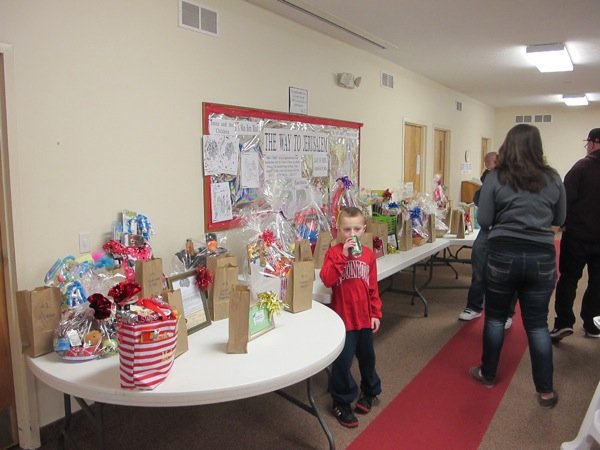 ---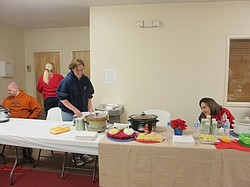 Photo
Neighbors | Tim Cleveland.Some of the nine entrants in the Austintown Little Falcons Chili Cookoff lined up at a table to have their chili tasted.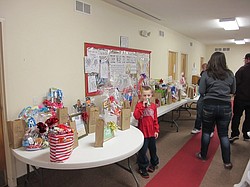 Photo
Neighbors | Tim Cleveland.Attendees of the Austintown Little Falcons Chili Cookoff looked at the baskets that would be raffled off to raise money.
By TIM CLEVELAND
For the Austintown Little Falcons youth football team to continue to be successful, fundraising is needed to keep things running smoothly.
On March 22, the organization hosted its second annual Chili Cook Off to help raise money at First United Methodist Church.
Event organizers expected about 100 people to attend with about $1,000 being raised. The money raised would go towards player equipment, training equipment and day to day expenses of running the organization.
There were nine entrants in the chili cook off vying to have their chili judged as the best. In addition, there was a 50/50 raffle and Chinese auction.
"We're expecting good success," said Little Falcons President Christopher Hockenberry. "We've got about as many cooks as were here last year. We've got a bunch more people who donated prizes this year, We're expecting a real big turnout."
Kim Covan attended the event last year to eat but this year entered her chili in the competition.
"I thought it would be fun," she said of why she decided to enter. "It was fun [last year]. It was a good time. A lot of fun, a lot of basket giveaways and the chili was very good."
Jonathan Zemko was attending the cook off for the first time. His two sons, Dominic and Donovan, will be playing on the 120- and 100-pound teams, respectively, this year, and his daughter, Mia, will be a cheerleader.
"I have boys playing this year," Zemko said of why he was attending. "They played last year which was their first year. I'm helping coach the 100-pound team."
Hockenberry said the cook off was a good opportunity to socialize as well as get to know the people running the Little Falcons.
"You get to meet a bunch of people that are involved in the organization, coaches, board members," he said. "We expect to have a meet and greet here as well."