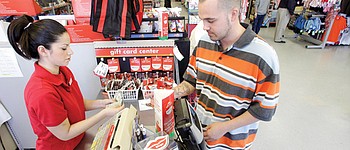 Family Dollar to cut jobs, close about 370 stores
Published: 4/11/14 @ 12:15
Associated Press
NEW YORK
Dollar stores are feeling the pinch from mounting financial pressures on low-income shoppers.
Family Dollar said Thursday it will cut jobs and close about 370 underperforming stores as it tries to reverse sagging sales and earnings. The discount store operator will also permanently lower prices on about 1,000 basic items.
Family Dollar Inc., which operates 8,100 stores, did not provide details on how many jobs it would cut.
The retail chain follows competitors in highlighting the split between shoppers who are enjoying an improving economy and those being left behind.
Dollar General, the nation's largest dollar-store chain with about 11,100 locations, offered a weak profit outlook last month after reporting weak fourth-quarter sales. And Dollar Tree, which operates nearly 5,000 locations, missed profit expectations for the holiday quarter in February.
Family Dollar has stumbled even more than its rivals because it has made mistakes in pricing, merchandising and the locations of its stores, analysts say. Still, the industry's problems are a big departure from a few years ago, when Family Dollar and other chains packed in customers and expanded rapidly by catering to cash-strapped people during the Great Recession.
But that expansion has spread shoppers thin. And retailing giant Wal-Mart is muscling in, too, by accelerating its growth in small stores and pushing its low prices. It's also increasing its offerings of small packages that are easy on the budget.
Dollar chains and other low-price stores are also seeing an increasing divide between low-income people who are facing more constraints on spending power and the higher-income households who are benefiting from improving housing values and stock market.
Family Dollar had shifted away from its focus on $1 items and had offered too many temporary promotions, retail consultant Craig R. Johnson said. The company now says it wants to go back to focusing on everyday low prices and $1 items to restore confidence it offers a predictably good deal every time a shopper visits the store.
Don't Miss a Story
Sign up for our newsletter to receive daily news directly in your inbox.