Chaney STEM students compete with CO2 cars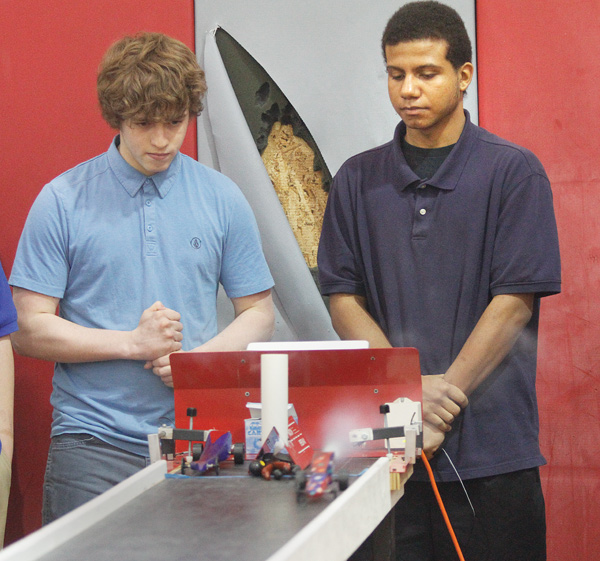 ---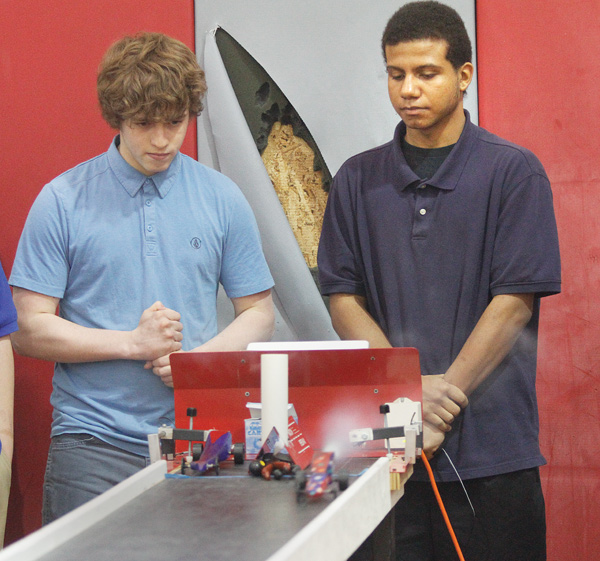 Photo
Patrick Riley, left, and Justyn Williams go head-to-head with their carbon-dioxide cars at Chaney High School. The boys, both juniors in the Science, Technology, Engineering and Mathematics program, built the cars. Then, finishing with the best times of their classmates Thursday, they raced each other. Williams won in the best-of-three final.
By Denise Dick
YOUNGSTOWN
Justyn Williams' miniature dragster flew down the track inside the Chaney High School gymnasium, outpacing all 84 of his fellow engineering classmates.
Because of the number of students in the school's Science, Technology, Engineering and Mathematics program, the races were broken into heats, with winners of each being whoever logged the fastest time.
The final showdown came down to Williams, 16, and fellow junior Patrick Riley, 17, with Williams winning two of the three races.
"I had another car, but someone put a hole in it, so I had to make this one in two days," Williams said.
He designed, cut, sanded and painted his newest car in the shortened time frame and ended up with a winner. Whoever damaged his first car may have done him a favor.
Both Williams and Riley were awarded trophies designed by teacher Cory Rudibaugh and printed by teacher Carrie Sinkele on a 3-D printer at the school.
A 3-foot-high drag strip stretched across the school gymnasium, and the cars, constructed from plywood and plastic wheels, were strung along fishing line. Carbon dioxide powered them down the track.
Rudibaugh said the students' creations fly down the track at 66 feet per second, or about 45 mph.
The project teaches students the design process, Sinkele said.
"They're given a problem, and they research current designs," she said.
Ninth- and 10th-graders draw their designs while 11th- and 12th-graders used computer-aided design to devise their cars.
Each student then got a block of wood, size specifications and tools to make their cars, which they then sanded and painted for the big race.
Riley based his design on dragsters he's seen at races.
Both he and Williams plan to be back next year with improved designs. Williams will make a shorter car with the hope of maintaining his edge.
Riley will make a lighter vehicle.
This year, he credits his success to his accuracy at pressing the button to send the car down the track. If you hit it too soon, you get disqualified, so timing is key.
"Other people had faster cars. I just did a decent job pressing the button," Riley said.