Boardman library hosts Celebration of the Arts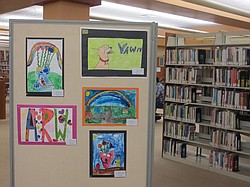 Photo
Neighbors | Tim Cleveland.Artwork created by various people in the community was on display at the Boardman library March 11-17.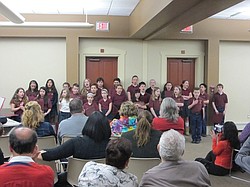 Photo
Neighbors | Tim Cleveland.The St. Charles choir performed at the Boardman library for the Celebration of the Arts Night.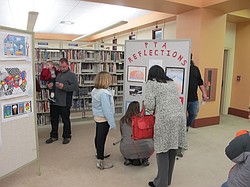 Photo
Neighbors | Tim Cleveland.Parents and students looked at the various artwork on display at Boardman library.
By TIM CLEVELAND
For Boardman elementary students in grades kindergarten through six, as well as St. Charles School students in the same grades, the annual Celebration of the Arts event is a chance to show off their creative sides.
The event was offered March 11-17 at Boardman Library, with the students' artwork being displayed.
"It's very well attended" said librarian Madeline Dunchak, who was in charge of the show. "It's very beautiful artwork. Everybody loves it. The kids love seeing their artwork. The parents take pictures of the artwork."
In addition, the 41-member St. Charles choir performed in the library's meeting room. The choir's members are in grades three through eight.
"We've been asked to come for the last four or five years," said St. Charles music teacher Laura Kotheimer. "We love doing that because sometimes people don't realize that we have a children's choir at St. Charles."
The choir sang a total of six songs, ending with a patriotic rendition of God Bless America.
"Music is just a wonderful avenue to take learning to that next step," Kotheimer said. "A lot of kids maybe have trouble reading but their listening skills are there. Music is just an incredible way to express yourself. It's a skill. They learn discipline. There's math, history and reading in music. It's all connected."