Youngstown students learn Polish egg coloring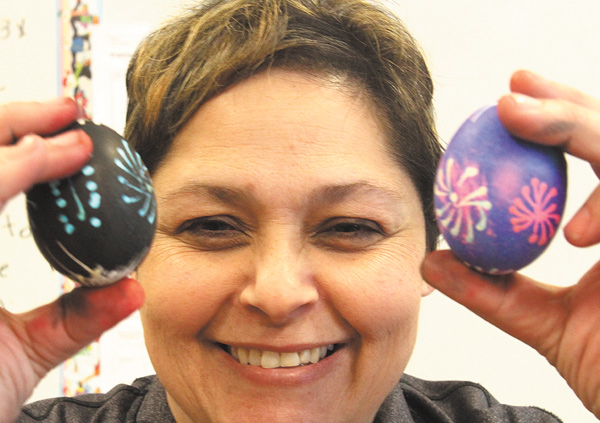 ---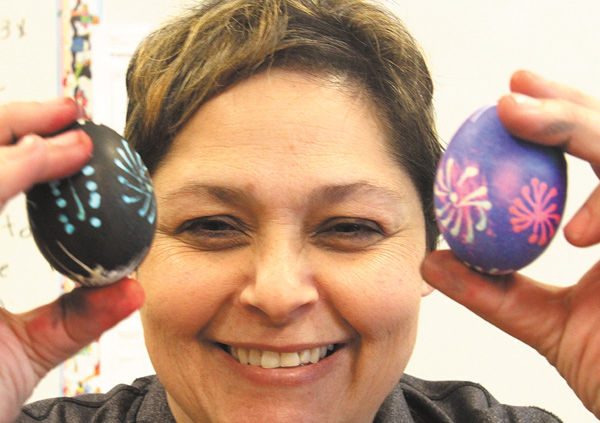 Photo
Carmelann Maszczak, a teacher at Programs of Promise at Wilson, the Youngstown City School District's alternative school, shows off Polish-style Easter eggs her students made for the holiday. Below, student Rayshawn Wallace applies wax to a hardboiled egg in the Polish style of coloring Easter eggs.
By DENISE DICK
denise_dick@vindy.com
YOUNGSTOWN
Cultures blended as one city-schools classroom prepared for the upcoming holiday.
"I'm 100 percent Italian, but my mother-in-law, who is Polish, taught me how," said Carmelann Maszczak, who teaches ninth-graders at Programs of Promise at Wilson, the district's alternative school.
She taught the art of Easter- egg coloring — the Polish way — to her students Wednesday.
Maszczak and her students dipped a wand in melted beeswax kept liquid using a hot plate to create designs on hard-boiled eggs. Then they soaked the eggs in either regular Easter-egg dye from a Paas coloring kit or deep, rich colors that the teacher picked up at a craft store.
When the eggs reached the desired hue, they plucked them from the dye, gently rubbed them in a paper towel and scratched away the wax, before dunking them in another color dye for a second coat on the designs created by the wax.
"You have to be patient," explained Hydeia Jackson, 15. "When I first started, it was hard, and I got frustrated."
She grew to enjoy the process, though, and the creativity involved.
Rayshawn Wallace, 15, dyed eggs when he was younger and living in Cleveland, but it was nothing like the way he learned in class. The way he did it at home just involved the dye.
He said he likes the designs he was able to make with the wax and the variety of looks he achieved.
"I like all the colors," he said.
De'Amonte Pagan, 14, made a bright-red egg with 2014 written in wax with the No. 1 forming the base of a cross.
"I was just being creative," he said.
Michelle Jordan, 17, made two eggs, both blue, and one with dots forming vertical lines all around. The second and the one she plans to take home bears the letter "R" at the top, for her boyfriend.
"It was cool," she said of the decorating experience.
Some of the eggs will be displayed at the school, and students will be allowed to take home one egg each.
Maszczak is now the only one in her family who carries on the Polish egg tradition. Her children did it when they were younger but have since lost interest as they got older.
"I still do it at home," she said. "I like to do it. I do about a dozen eggs every year."