Poland's Miokovic tames Fitch bats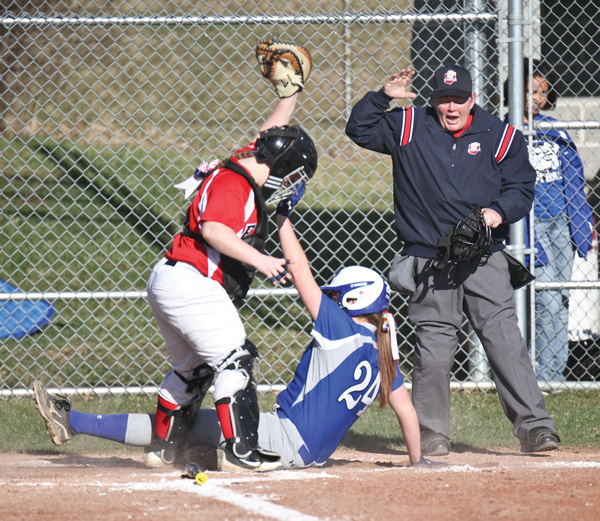 ---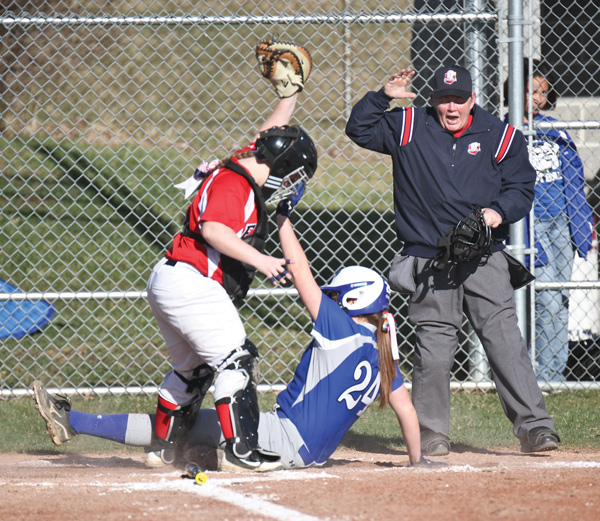 Photo
Poland baserunner Chloe Bush is tagged out at home by Fitch catcher Alex Coe during their softball game Wednesday in Austintown. The Bulldogs blanked the Falcons, 3-0.
Miokovic tames Falcons' bats
By Tom Williams
AUSTINTOWN
After the Poland-Fitch softball game was twice postponed this week, Bulldogs senior Taylor Miokovic didn't mind Wednesday's chilly wind under deceptively sunny skies.
"It was really nice," said the Bulldogs' four-year starter of being outdoors. "We haven't even had one practice on the dirt. We were in our 30th-something practice in the gym. Or 40th.
"Getting stuck in that gym, [you get] kind of antsy to get outside."
Miokovic, a lefthander, scattered four hits as Poland shut out Fitch, 3-0, in their All-American Conference Red Division battle.
"Temperature was OK — not to hot, not too cold," Miokovic said. "Maybe it's because we've been used to negative something [temperatures] so it [felt like] 70."
She struck out 14 batters and walked none. Two Falcons reached base on errors.
In her first three varsity seasons, Miokovic was Poland's first baseman. Last season, Kasie Serich (who graduated) and Aleah Hughes (who transferred to Western Reserve) handled Poland's pitching.
"She's our leader," said Poland head coach Matt Campbell of Miokovic. "She's proven she deserves this opportunity to pitch.
"Against a good hitting team like Fitch, she kept them at bay."
The Falcons (2-1, 2-1) had one baserunner in each of of their first six at-bats.
"We didn't swing at the good pitches," Fitch head coach Melody Ward said. "It just wasn't us.
"It's early in the season and we're going to take this as a learning experience," Ward said. "The walks did hurt us."
Franken (2-1) limited the Bulldogs to three hits.
"She has a really good outside pitch, a really good screwball," said Miokovic who singled in the fifth inning after being walked twice. "She really hits her spots."
In the fourth inning, Miokovic drew a one-out walk and advanced on Jenna Schetter's single. After Alex Franken walked Claire Testa to load the bases, Chloe Bush and Ally Deemer each earned an RBI by drawing walks, giving the Bulldogs a 2-0 lead.
The Bulldogs added a run in the fifth inning when Brielle Nocera hit a sharp single to left field. After the ball went through left fielder Christiana Savo's legs, Nocera raced around the bases for a 3-0 lead.
"Honestly, I didn't see — I was paying attention to my coach who told me to keep going," Nocera said, referring to first-base coach Nick Blanch. "He was pretty excited.
"It felt pretty good, especially after my first two at-bats," Nocera said.
After striking out in the first inning, Nocera popped out to right fielder Jessica Welsh in the fourth.
"She got me on her outside pitch in the first at-bat," Nocera said of Franken.
She decided she needed to "be more aggressive, not wait until two strikes were on me to get me to swing outside."
Nocera said the Bulldogs were thrilled to take the field.
"All week, we were excited for this game," Nocera said.
Falcons senior shortstop Alex Carradi doubled in the third inning. Franken, Sierra Pierce and Gabby Butcher had the Falcons' other hits.
"To have a different job this year for this team is interesting," Miokovic said. "I've always wanted to pitch for high school. For three years, I've been used to doing the same thing over and over again at first base. Now it's changed and it's a good thing."
Campbell said he expects all teams' bats to warm up.
"i think everybody's timing is a little bit off," Campbell said. "Typically, pitching is ahead of the hitters at this point of the year. Once a couple of weeks go by and everyone can play consistently, we'll be able to see more timely hitting."