Rhetoric in Mahoning probate judge race escalates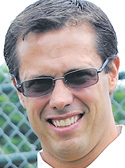 ---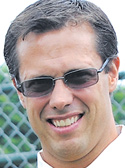 Photo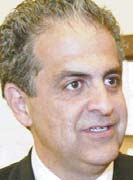 Photo
YOUNGSTOWN
The war of words is escalating between Christopher Sammarone, a Democrat running for Mahoning County Probate Court judge, and the county Democratic Party Chairman David Betras.
And the war is based on two words — "a leader" — who said it and when.
Sammarone's campaign literature prominently uses the words attributed to Jim Tressel, who was the candidate's football coach at Youngstown State University in the early 1990s.
The two words are part of a longer quote from Tressel in the Aug. 21, 1994, edition of The Vindicator in which the coach praises the leadership qualities of Sammarone on the team.
Betras said he thinks it's deceptive to use a 20-year-old-plus comment in a political ad about a candidate's college football days.
"It's clear to me it's meant to imply Tressel is endorsing him," Betras said. "Put it in context."
The county party is backing Susan Maruca, Betras' former law partner, for probate court.
Sammarone, who had a press conference Wednesday on this, said he's "disappointed in Betras and Mrs. Maruca that they would attempt to discredit my campaign by attacking a time in my life that is precious to me" and Tressel, whom he called a "mentor, friend and coach."
Sammarone added that this is an "attempt by Betras and Maruca to cloud the real issues in this race," which are "the qualifications and experience" of the two candidates who are squaring off in the Democratic primary on May 6.
The dispute, first reported Tuesday on vindy.com, has Sammarone and Betras exchanging heated words and accusations.
After seeing Sammarone's campaign materials with the Tressel quote, Maruca had her campaign attorney, Donald McTigue, send Sammarone a letter asking him to remove the quote because it "misleads the voters."
Maruca said she spoke to Tressel on Sunday when she saw him at a Boardman High School event, and he told her he's not endorsing any candidate in the probate-court race.
Sammarone said Tressel agreed to be one of his references as the county Republican Party decides who it will recommend to Gov. John Kasich to replace Mark Belinky as probate court judge. Belinky, under criminal investigation by the state, resigned March 14.
"Having someone as a reference is not an endorsement," Betras said.
Sammarone said he didn't ask Tressel to endorse him, and "my literature doesn't state that he does. He does not get involved in political campaigns. Now I see why."
Betras and Maruca said all Sammarone had to do was include "YSU, 1994" after Tressel's name and quote, and there wouldn't be an issue.
In response, Sammarone said, "You could clarify it, but I didn't think it was necessary" as everyone but Betras and Maruca could tell it was an old quote about his football days at YSU.
Sammarone said, "Tressel believed in uniting this community and everybody being on the same page. Betras would rather divide the community."
Betras responded: "The real issue is integrity with the voters. If you'll say anything to win, we don't need that type of candidate."
The quote on Sammarone's campaign materials prompted a response Tuesday by Tressel, the University of Akron's executive vice president for student success, through Eileen Korey, the school's chief communications officer.
That statement said Tressel heard about the quote, that it came from a Vindicator article when Sammarone played for him, and declined to discuss it further.
Sammarone said he spoke to Tressel late Tuesday, and his former coach offered to discuss the issue with the media.
On Wednesday, Tressel again relayed comments through Korey.
"He did in fact tell Chris that he would stand by statements he made about him back when he was coach Tressel and Chris was on his team," Korey said. "Jim also said that if he's out in the community, and a reporter asks him about these previous statements, he would reaffirm them." But Tressel again wouldn't comment further on the issue, she said.
Also, Sammarone and Bryan Ridder, the candidate and the campaign's co-counsel, called a text message sent by Betras to John Shultz, an attorney backing Sammarone, a "threat."
The Betras text, forwarded to Ridder by Shultz, reads: "Y is ur candidate doing this. We have another surprise coming. LOL."
"It's another attempt to muddy up the issues," Sammarone said. "It's a threat. I don't know how else you could perceive it as anything but a threat."
Betras said it wasn't a threat, and he was responding to numerous text messages from Shultz, who was trying to bait him.
"There's nothing nefarious about it," Betras said
The "surprise" was a response by Kathy DiChristofaro, head of the Ohio Democratic Women's Caucus, and Tina Morell, president of the Federated Democratic Women of Ohio to comments in Wednesday's Vindicator from Sammarone that with Belinky out of the Democratic primary would help his campaign as Belinky was splitting "male voters."
DiChristofaro said that "it's unfortunate" that Sammarone's comment "reduced our democratic process to imply all the males line up to vote for male candidates."
Morell added that Democrats "vote for candidates based on whether they're fit for office, not on factors like gender, age, or race."
Sammarone said, "I would hope people wouldn't vote along the lines of male and female, but some people do."