GOP blocks Senate bill curbing gender pay discrimination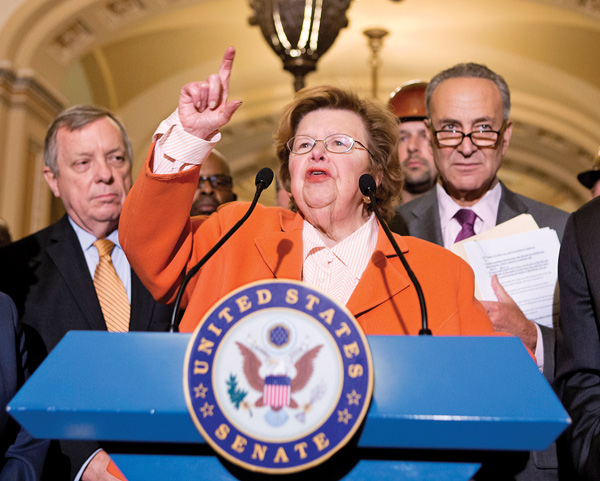 ---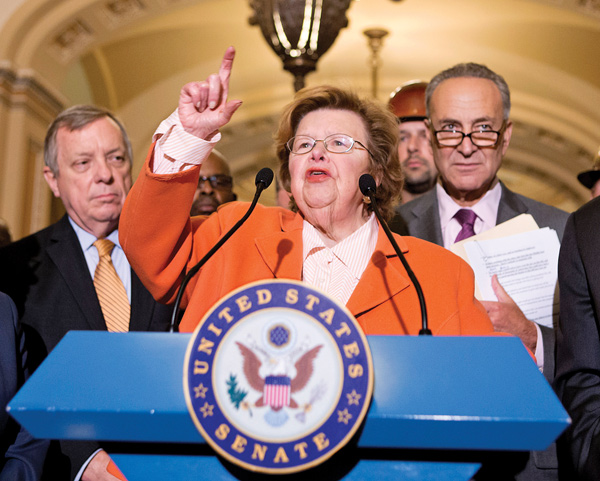 Photo
Senate Appropriations Committee Chairwoman Sen. Barbara Mikulski, D-Md., flanked by Senate Majority Whip Richard Durbin of Illinois, left, and Sen. Charles Schumer, D-N.Y., speaking on Capitol Hill in Washington. Senate Republicans derailed a Democratic bill Wednesday curbing paycheck discrimination against women, an effort that even in defeat Democrats hoped would pay political dividends in this fall's congressional elections. Mikulski is the bill's sponsor.
Associated Press
WASHINGTON
Republicans blocked a Senate bill Wednesday aimed at narrowing the pay gap between men and women, an election-year ritual that Democrats hope will help spur women to back them in this fall's congressional elections.
GOP lawmakers said the measure could hinder employers from granting raises, or permitting flexible hours in exchange for lower pay, for fear of costly lawsuits. For Democrats, the bill was the latest stressing income-fairness they are pushing this campaign season, a procession that includes proposals to extend jobless benefits, boost the minimum wage and help students and families afford college loans.
"Republicans in Congress continue to oppose serious efforts to create jobs, grow the economy and level the playing field for working families," President Barack Obama said in a written statement after the vote. "That's wrong, and it's harmful for our national efforts to rebuild an economy that gives every American who works hard a fair shot to get ahead."
Republicans, whose campaign focus has been on an economy that still is recovering from a severe recession, said it was the Democratic bill itself that would wreak damage. They were backed by the U.S. Chamber of Commerce and other business groups.
"At a time when the Obama economy is already hurting women so much, this legislation would double down on job loss — all while lining the pockets of trial lawyers," said Senate Minority Leader Mitch McConnell, R-Ky. "In other words, it's just another Democrat idea that threatens to hurt the very people it claims to help."
Democrats pushed the same legislation the past two election years, 2012 and 2010, only to see Senate Republicans scuttle the measures.
The bill by Sen. Barbara Mikulski, D-Md., is aimed at tightening the 1963 law that made it illegal to pay women less than men for comparable jobs because of their gender.
"When I hear all these phony reasons, some are mean and some are meaningless, I do get emotional," she said of arguments against the legislation. "I get angry. I get outraged. I get volcanic."