Blakey, Lacatena help YSU salvage victory over SFU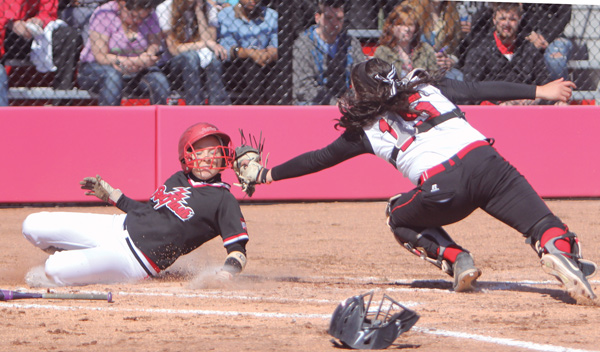 ---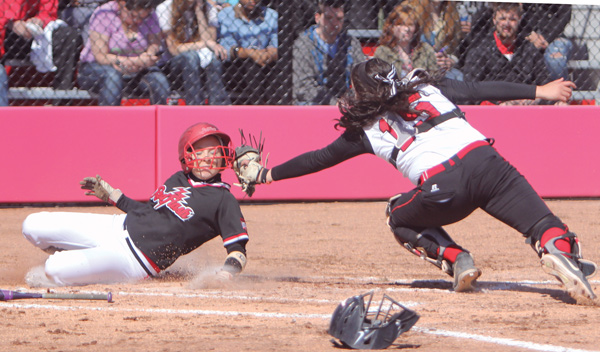 Photo
Saint Francis' Aly Ramsaier is tagged on the helmet by Youngstown State catcher Maria Lacatena but she is safe at home during Game 1 of their softball doubleheader Wednesday at the YSU softball complex. The teams split, with the Red Flash winning the first game 6-3 and the Penguins winning Game 2, 4-3.
Staff report
YOUNGSTOWN
Freshmen Darcella Blakey and Maria Lacatena helped the Youngstown State softball team salvage the second game of a doubleheader against Saint Francis on Wednesday.
Blakey went 3-for-3 and Lacatena hit her first career home run as the Penguins beat the Red Flash, 4-3, in the second of two games at the YSU softball complex. Saint Francis won the opener, 6-3.
Blakey led off the bottom of the third inning with a triple to center field, and Lacatena gave the Penguins (18-17) a 2-1 lead after blasting a 1-1 pitch over the left-field wall.
In the bottom of the fifth, freshman Sarah Dowd led off with a walk and scored from second on Miranda Castiglione double to left-center field. Senior Sarah Ingalls' line drive off the Saint Francis pitcher Ethel Santai put runners on the corners for Kayla Haslett, who singled up the middle to score Castiglione and gave the Penguins a 4-1 lead.
Saint Francis' Maggie Crecuin double down the left-field line scored Sabrie Neeb and a graoundout plated Taylor Parsons to bring the Red Flash (19-11) within one, 4-3.
With the tying run on third base, senior Casey Crozier, who struck out seven, induced a groundout to end the threat. Crozier improves to 11-5 overall
In the first game, the Red Flash scored three runs in the runs in the top of the first inning — two of them unearned — and two more unearned runs in the top of the second to take 5-0 lead.
The Penguins scored twice in the bottom of the third to get within three, 5-2. Jordan Macey led off the frame with a single to right and moved to third on a double by Dowd.
Courtney Ewing drove Macey home with a single to center and advanced to second on the play at the plate. Ingalls' single to right scored Ewing with the Penguins' second run.
Alexis Bower belted a solo home run to center field to push the Red Flash lead back to four, 6-2.
Haslett answered with a solo home run in the bottom of the inning to cut the deficit in half. Haslett, who went 2-for-3, also pitched five innings of relief an allowed just four hits and one run.