US employers advertised more open jobs in February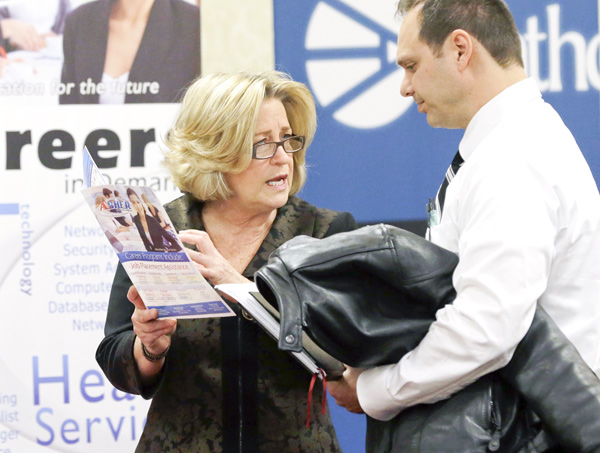 ---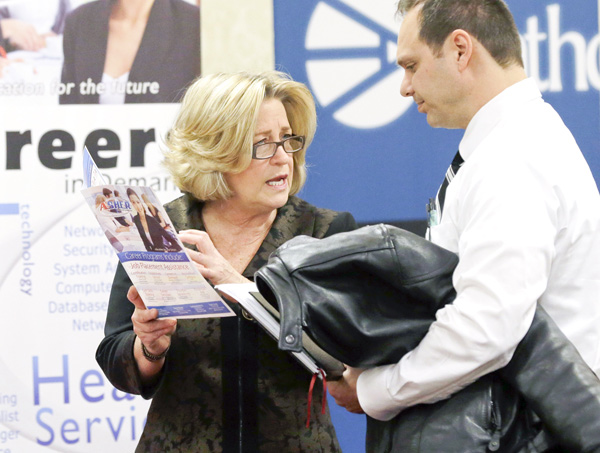 Photo
Recruiter Valera Kulow, left, speaks with job-seeker Leonardo Vitiello during a career fair in Dallas. The Labor Department said Tuesday that employers advertised 4.2 million job openings in February, up 7.7 percent from January.
Associated Press
WASHINGTON
U.S. employers posted more job openings in February, a sign that hiring will likely improve in the months ahead.
The Labor Department said Tuesday that employers advertised 4.2 million job openings, up 7.7 percent from January. That's the highest number of postings since January 2008, when the Great Recession was just beginning and the economy had yet to suffer the full shock of the downturn.
There are roughly 2.5 unemployed Americans for each open job, the report shows. That average has slowly been approaching the 2 to 1 ratio typical of healthier economies, after peaking at 6.7 unemployed people for each available job in July 2009, just after the recession ended.
Hiring has accelerated over the past two months after a winter slowdown. After factoring in job losses, employers added 192,000 jobs in March and 197,000 in February, the government said last Friday.
That was significantly higher than in December and January, when snowstorms reduced job growth. The unemployment rate has stayed at 6.7 percent for the past two months.
Tuesday's government report, known as the Job Openings and Labor Turnover survey, offers a more complete picture of the job market. It includes additional data on hiring and the number of people quitting or being laid off.
Total hiring rose 1.5 percent to 4.6 million in February. That's still less than a healthy job market, where around 5 million people are hired each month.
The number of people who quit their jobs rose slightly last month, the report said, while layoffs declined.
The additional data in the JOLTs report illustrates how much turnover is happening in the job market. Stronger job markets usually include a greater amount of churn, with more people quitting and greater overall hiring.
A rise in those quitting jobs can be a positive sign because people often depart for a new job or have confidence they will find one. More quits also open up more positions for job-seekers.
More like this from vindy.com