Mahoning Dem chairman urging state panel to get answers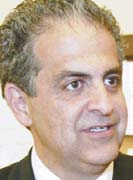 ---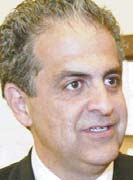 Photo
SEE ALSO: Lawmakers delete provision to penalize counties for mailing unsolicited ballots
YOUNGSTOWN
David Betras, Mahoning County Board of Elections vice chairman, said he's sending a letter to the Ohio Elections Commission urging its members to get answers to issues related to an improper cash campaign contribution from former Youngstown Mayor Charles Sammarone to failed mayoral candidate DeMaine Kitchen.
The board filed a complaint March 31 with the state commission because Kitchen's post-general-election campaign-finance report was nearly three months late and it listed a $4,000 cash contribution from Sammarone, who had Kitchen serve as his chief of staff/secretary when he was mayor. State law doesn't permit cash contributions of more than $100.
"We owe it to the public to not sweep this under the rug," Betras, who also is the county Democratic Party's chairman, said during Tuesday's board meeting. "We want people to have faith in the process."
Betras said a March 16 editorial in The Vindicator "raised good questions" about the issue.
Those questions include: where did the money come from, where did the transaction take place, and why was the report filed so late.
"I'm going to make sure cash isn't delivered in paper bags in Mahoning County anymore; it stinks," Betras said.
Mark Munroe, board chairman and head of the county Republican Party, said the contribution "raises concerns," but he and the two other board members don't plan to write letters to the commission or sign Betras' letter.
"I support David Betras' efforts to share information with the Ohio Elections Commission," Munroe said. "Cash has been a poison in Mahoning County, and it's a corrupting influence for too long. [Betras] raised some fair points and they should certainly be explored."
Republican board member Tracey Winbush said at least Kitchen reported the cash contribution, and it's likely he didn't read the campaign finance information provided by board employees.
"It was [cash] and [Sammarone] should have known better being in politics for that long," she said.
Sammarone has agreed he should have known the law on cash contributions better, and said he will do whatever is needed to correct the situation.
Robert Wasko, a Democratic member of the board of elections, said he has faith the elections commission will handle this issue properly.
Kitchen, who unsuccessfully ran last November for mayor as an independent candidate, lent $1,500 to his campaign April 1 and used $1,000 left in the account to repay $2,500 of the improper cash contribution from Sammarone.
A $2,500 check was given to Sammarone shortly thereafter, but he is still owed $1,400. Kitchen lists the $1,400 on the April 1 amended report as outstanding debt to Sammarone and wrote in a statement that he "intends to pay Chuck Sammarone the $1,400 balance as soon as he can afford it."
Kitchen also wrote in that April 1 statement that "this should put an end to the issue."
But it doesn't.
The elections commission has tentatively scheduled a hearing on the board's complaint against Kitchen for June 26, said Phil Richter, its executive director.
The commission could fine a candidate up to three times the amount that exceeds the maximum cash contribution limit, but that isn't likely for a first-time offender, he said.
The commission doesn't have the authority to compel a candidate to refund the money to the donor. But Munroe said the commission can turn the matter over to the county prosecutor "if they believe there's criminal wrongdoing."