Former YSU infielder Dosch makes Class A pro debut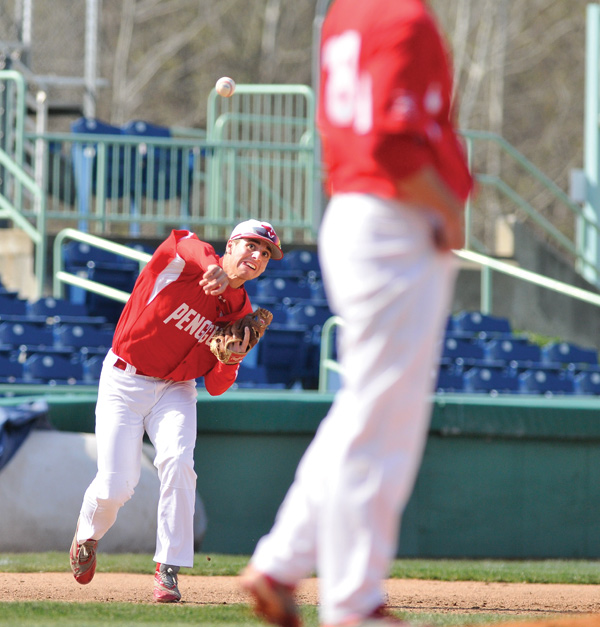 ---

Photo
Nearly a year after tearing his ACL in his final collegiate game, former YSU third basemen Drew Dosch made his pro debut with the Class-A Delmarva Shorebirds.
By Joe Scalzo
On Thursday night, more than 10 months after he tore his ACL while running out a sacrifice bunt in his last collegiate game, Drew Dosch walked onto McCormick Field in Asheville, N.C., for his first professional game.
He was just happy to be there.
By Friday, he wanted to prove he belonged there.
"[That first day], I could have went 0-for-5 with five strikeouts and it wouldn't have ruined my day because of the feeling of just being back on a baseball field," said Dosch, a former Youngstown State third baseman who now plays for the Class-A Delmarva Shorebirds.
He went 0-for-4 with one strikeout.
"It was a rough start," he said, "but a good one at the same time, all things considered."
The next day, Dosch got his first professional hit. In the bottom of the second inning, Asheville pitcher Zach Jemiola threw him a fastball low and away and Dosch lined it over the third baseman's head into left field.
"I don't know how I hit it," he said, speaking by phone on Monday afternoon. "It wasn't a very good swing, but I got enough of the barrel on it. Honestly, it's all kind of a blur.
"That second day, I was a lot more calm and was back to doing what I knew how to do, what I had done for so long. To get that first hit was such a relief because I was like, 'OK, now I've gone through everything and it's time to go to work and do everything like I've always done it.'"
On May 17, 2013, in the fourth inning of a game at Valparaiso, Dosch hyperextended his right knee at first base while trying to jump over the first baseman's tag. Less than three weeks later, he had surgery. A week after that, the Baltimore Orioles drafted him in the seventh round.
From the end of July through mid-November, Dosch lived at the Orioles' spring training complex in Sarasota, Fla., rehabbing his knee six days a week, three to four hours a day. He split time between the training room, the weight room and the hydrotherapy pool trying to regain his knee's strength and flexibility. He spent the rest of 2013 rehabbing in Youngstown, then returned to Florida in January to start working on baseball activities.
The typical ACL rehab is six months, but because Dosch injured his knee in May, he was able to stretch it to eight months.
"The nice thing — I call it a nice thing — is it basically gave me almost nine months before I had to be back on the field for spring training," said Dosch, a two-time first team All-Horizon League selection at YSU. "So we were able to slow it down. I was able to ease back into everything and when I did come back I was at full strength. I had a month of spring training and it's already been a week into the season and I haven't had any pain or soreness or discomfort."
That doesn't mean the rehab was fun.
"It was a roller coaster of emotion," he said. "There are days when your knee just aches or you're sore for a week because you popped some scar tissue and you really don't want to go into the field and push it. And there's days when your knee feels great and that lifts you up and you want to get back on the field. So there's a little bit of everything."
Dosch praised YSU athletic trainer Sarah Sydor for helping him get through the early stages of his injury, calling her "unbelievable."
He also thanked his family in Columbus — "They played a huge part in keeping me sane through the ups and downs" — and the Orioles' trainers who helped him through his rehab.
Through Monday's games, Dosch was 4-for-16 with a run and two RBIs for the Shorebirds, whose season runs through Sept. 2.
"It's awesome right now to not have anything to do but go to the ballpark and play baseball for a living," he said. "Everything was so unsure at one time with my injury and my chance to play pro ball, which seemed like it may happen and then may not happen, so after going through everything, to finally be back on the field is so exciting."
More like this from vindy.com