Published: Wed, April 9, 2014 @ 12:00 a.m.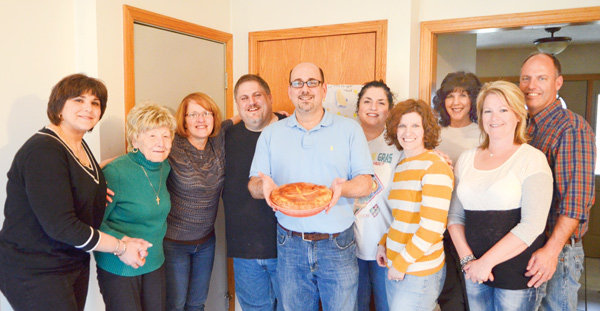 Photo
From left are Connie Bane, of Canfield, Angeline Morrell of Canfield, Carol Walker of Petersburg, Michael Vallas of Canfield, Mark Smesko of Canfield, Michelle Anania of Austintown, Mary Vallos of Canfield, Christine Rhodes of Canfield, and Darcie and Don Baird of Salem.
For the Easter feature we asked our friends at the Vindy to allow us a little latitude so that we could tell you about one of our own favorites, Italian Easter pie, aka, shadone.
This is a story of food, family, friends and the tradition that binds these ingredients together. And we'll begin with a little history on how this came to be "The Brothers in Food" Signature Dish.
The story starts with Grace Paris, Mike's great-grandmother. Grace, along with her husband, Stephen, emigrated from Italy in the early 1900s and bought a farm in West Middlesex. Grace and Stephen raised 14 children on that farm, and for each Easter, Grace would bake pies with a sweet crust and rich blend of egg and cheese filling. This tradition was passed along to the kids, including Mike's grandmother Angie, who was child No. 6 among the Paris brood.
Angie (Morrell) and her sister Evelyn (Angelo) would continue the tradition of getting together before Easter and baking their family recipe for shadone. This family tradition came to include Mike's mom, Carole, and then his sister Connie. Three generations in the kitchen all rolling out dough, cubing pounds and pounds of cheese and whipping up dozens of eggs.
Well, about nine years ago the ladies decided they've done their time shouldering this family tradition and planned to take a year off. It was at that point that Mike decided he ought to give it a try and make a few pies for the family. So the family recipe was handed over to the male member of the family.
If you Google shadone you will find many recipes out there for this decadent dish, each having some variation of eggs, cheese and oftentimes some sort of meat (ham or salami). The recipe we follow makes about eight pies, uses six different types of cheese, totaling about 14 pounds, 4 dozen eggs, and 2 pounds of pepperoni in the filling. This filling for each pie is encased in sweet yeast-risen dough, containing eggs, sugar, butter and whole milk.
Although we haven't been able to validate it through independent laboratory testing, our suspicions are that each pie contains about 10,000 calories.
The pie process starts out around 8 a.m. on Good Friday with the making of the sweet dough. Yeast is proofed in a small bowl of warm milk enhanced with a couple tablespoons of sugar. Eggs and sugar are blended together and then added to additional warm milk containing melted butter. This liquid gold is poured into the center well of all-purpose flour, gradually incorporating the liquid into the flour until a dough ball forms. The dough is kneaded further until smooth and placed under a towel to rise for the next three hours.
Next comes the filling, and some controversy. Mike's grandmother insists that all 14 pounds of cheese be cut into small 1/2-inch cubes. Mike believed that once he assumed the mantle of preparation, he could be free to use a food processor to shred the cheese in a third the time. Mike was wrong. Using the food processor amalgamated the filling, losing texture that hand-chopping the varieties of cheese offered. And it took him only two years to admit it. The cubed cheese is held together with 4 dozen beaten eggs. The mixture is then completed with the addition of 2 pounds of chopped pepperoni. Further disagreement ensued with the choice of pepperoni. Mike opts for the Hormel brand, while Grandma, aided by an alliance with Mark, continues to insist that Margherita brand be used.
The dough is rolled out to form bottom and top crusts. The pies are filled with the rich egg mixture; the tops are vented and brushed with an egg wash. After about one hour in a 350-degree oven, the pies emerge having a rich brown color.
Because we typically make these meat-enriched pies on Good Friday, tasting has to wait for the next day. Since we make these only once a year, that extra day is almost too much. The taste of the sweet dough with the rich, almost-custard filling is incredible. The pepperoni adds salt and spice to each bite.
So back to how this tradition became our Signature Dish. About six years ago Mark joined in with Mike to make these pies. The next year another friend joined in, and this year we had friends representing six different families join in on this Easter tradition. Angie, now 92 years old, has assumed more of a supervisory role but has helped establish a new tradition among family and friends that will hopefully last for years to come.
If you would like a (somewhat more) detailed recipe, just e-mail us at brothersinfood@gmail.com and we'll be glad to share it with you. If you have your own signature dish, we'd love to hear about that also. Maybe between our typical signature dish reviews, we'll stop by for a quick bite.
ABOUT Signature Dishes
Mike and Mark are on the lookout for the biggest, hottest and tastiest dishes in the Valley. Email them at BrothersInFood@gmail.com.