---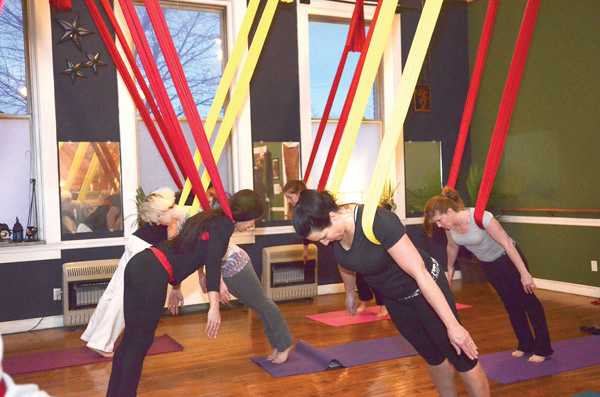 Photo
Participants in Jennifer Neal's aerial yoga class dangle from the ceiling at Eos Whole Fitness located in the Calvin Center for the Arts, 755 Mahoning Ave., Youngstown.
Aerial yoga classes offered at Calvin Center
YOUNGSTOWN
A day after taking her first aerial yoga class, Erin McCall felt like she had run a marathon and climbed a mountain.
Her sense of accomplishment was just as much mental as it was physical. Dangling from billowy bolts of fabric attached to the ceiling will do that to you, she said.
The Boardman woman was among the group of brave souls who took Jennifer Neal's aerial yoga class recently at Eos Whole Fitness in the Calvin Center for the Arts, 755 Mahoning Ave.
McCall said she was more afraid of her own ability than she was of trusting the specialty fabric to hold her, a common fear among people trying aerial yoga for the first time.
"Surprisingly, I learned I was able to do a whole lot more than I thought I would be able to," she said. "It was a major workout but it was so worth it."
For the class, traditional "grounded" yoga poses are adapted for the air. The nylon fabric holds 2,000 pounds and hangs from bolts on the ceiling, allowing participants to experience deeper stretches, proper alignment and fuller body extensions.
The aerial hammock reduces spinal compression and promotes flexibility, joint mobility, strength and improved circulation, said
Neal, who trained recently in Baltimore with the founder of aerial yoga, Jayne Bernasconi.
Safety was a big part of Neal's platform, encouraging the class to watch her perform the poses before trying them. She walked around and helped those having trouble with the pose or battling anxiety.
Neal said aerial yoga is liberating, explaining that "freedom replaces fear, and actual strength replaces perceived weakness."
During the "sacrum hang," where students were upside down tethered by the hips, Neal walked around asking students to work through their vulnerability and trust their bodies.
"I had a lot of fear with the first class," said Crystal Beiersdorfer, a student at Youngstown State University taking aerial yoga for the third time. "But I'm not so afraid now."
As with traditional yoga, Neal said breathing is the cornerstone of the practice. "When you're about to alter your state of awareness, your orientation, when back becomes front, up becomes down and your instincts are on fear mode, finding the breath is essential," she explained.
Men and women of all ages, sizes and abilities are welcome in Neal's class, as participants are closely supervised and work within their abilities. Previous yoga experience is helpful but not necessary.
During the ending pose, participants cocooned themselves in the fabric for a few minutes of deep relaxation.
Katie Haas of Canfield called the pose "incredible," saying it's nearly as relaxing as sleep. "It envelops you completely, and you feel like you're floating," she said.
As far as Neal knows, Eos, just outside the downtown area, is the only local yoga studio offering the class. She said she hopes to bring more people to the area "to show them we have a really good thing going on here."
The class can accommodate 10 people, so Neal recommends registering early. Cost is $12 per class, and packages are available. To reserve a spot, text Neal at 330-518-4402.
Eos also offers yoga, hot yoga, belly dance, Zumba (adults and children) and Bellifit, a core conditioning class that prepares students for belly dance.
The studio's anniversary party, "Tahitian Nights," is Saturday and a four-week intro to hula hooping class begins April 18. To view the class schedule, visit www.thedanceofeos.com.