KSU branch campus offers hands-on horticulture experience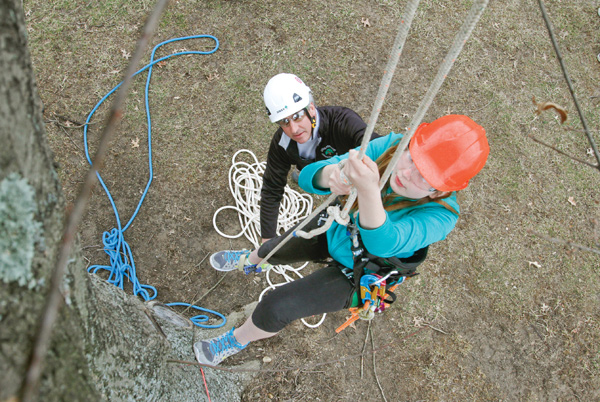 ---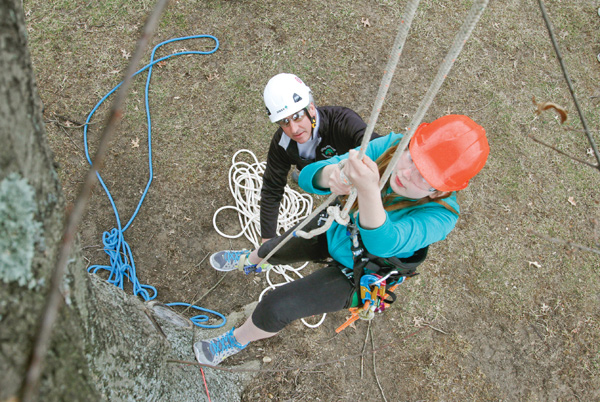 Photo
Anna Detoro of Poland uses ropes and knots to climb a tree. On the ground is Mark Noark of Davey Tree Expert Service Co.
STORY AND PHOTOS
SALEM
Kent State University Salem is one of the few in Ohio where hands-on experiences reach a new level as students in the associate of applied science-urban forestry discipline, through the school's horticulture program, not only can earn a degree but have the advantage of a cooperative arrangement with Davey Tree Expert Service Co. for training and scholarships.
Students studying horticulture can earn either an associate or a bachelor's degree and focus their studies in professional tree care and arboriculture, turf-grass management or landscape management and design.
Arboriculture is the cultivation, management and study of individual trees, shrubs, vines and other perennial woody plants.
The instructor is internationally recognized Chris Carlson, who has practiced and promoted arboriculture and urban forestry the past 32 years.
He believes in what he teaches and recently had the KSU Salem campus designated a Tree Campus USA by the Arbor Day Foundation.
The campus will be recognized at an Earth Day celebration at 10 a.m. April 16. The campus is at 2491 state Route 45.