Area woman's cancer fight stretches 24 years — and counting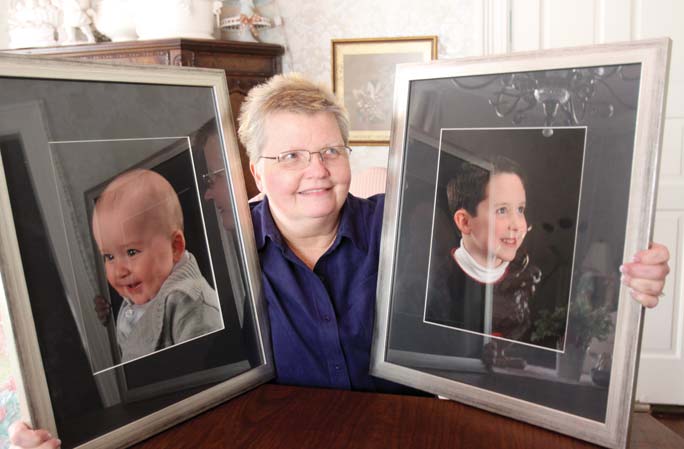 ---

Photo
Patty McCauley Guarnieri of Boardman poses with photographs of her grandsons, 10-month-old Cole Muir and 6-year-old Luke Lantz. Guarnieri has been battling advanced kidney cancer for almost 24 years.
By EMMALEE C. TORISK
BOARDMAN
When Patty McCauley Guarnieri received a devastating diagnosis of advanced kidney cancer, she decided the disease wouldn't overtake her life.
And, somehow, it hasn't, even after almost 24 years.
"I think I was a stinker in my former life," said the 65-year-old Guarnieri, laughing, in an attempt to explain her atypical circumstances.
Of course, in that time, she's endured myriad operations — 16 at last count — and a host of extensive hospital stays. Because of her weakened immune system, she's had to quit many things she loves, such as going to the YMCA and working at two of her family's businesses: McCauley Funeral Home in Youngstown and Belleria Pizzeria in Struthers.
In recent years, too, her participation in a clinical trial of Sutent, a drug used to treat patients with advanced kidney cancer like hers, has necessitated her traveling back and forth to the Cleveland Clinic a couple of times each month — not to mention dealing with the drug's often brutal side effects. The drug targets and shrinks her four inoperable tumors.
They've all been inconveniences, sure, but worthwhile ones.
All have given her more time with her family, including her husband, George Guarnieri; daughters Josa Muir and Dana Lantz; siblings Danny McCauley, Paul McCauley and Joanne Collier; and grandsons Luke Lantz and Cole Muir. She baby-sits the 6-year-old and 10-month-old, respectively, four days a week.
"People say, 'I don't know how you do it,'" Guarnieri said. "[If I didn't], I think I'd shrivel up."
Josa Muir explained that her mother, from the time of her diagnosis, has "always lived through her cancer," remaining "an active participant in her life." In fact, at times, the cancer has been something Muir has almost forgotten about.
"She's blessed. We're blessed," Muir said. "She puts this face on. She's never been the victim."
Paul McCauley agreed, calling his sister "an amazing woman." Whenever he calls to check on her, Guarnieri, without fail, will "mask her problems" and reply that she's OK — even if she's dealing with pain, or feeling extremely weak and tired.
"In spite of all this, she still gives," McCauley said. "If anybody needs something, Patty's the first one there."
Guarnieri's medical saga began in the summer of 1990, when she began experiencing a lot of pain with no apparent cause. Tests during an emergency-room visit showed a tumor-addled kidney, which was removed not long afterward.
In 2004, Muir's insistence that something was wrong brought her into a doctor's office. There, she learned that the disease had metastasized to her thyroid. She endured another surgery.
In 2011, Guarnieri began inexplicably falling. The culprit was a tumor the size of a cantaloupe in Guarnieri's abdomen that doctors later discovered had created a lifeline through her femoral artery. She spent 10 hours in surgery, 30 days in the hospital, and almost a year in occupational therapy — a necessity after being in a coma for 17 days.
"For every day you're in a coma, it takes three days to get it back," Guarnieri said. "I thought I'd be OK, but you're not. You don't realize how fast your body disintegrates."
Now, Guarnieri's life is a bit more normal. She often visits the Cleveland Clinic as part of the Sutent clinical trial, which prescribes that she be on the drug for two weeks, then off for two weeks, in each four-month cycle. An eight-week break is typically between each cycle.
Guarnieri said the average life expectancy on Sutent is 11 months — but it'll be four years for her in December. She added that she's grateful to her friend Donald DeLorenzo of Boardman, who died from kidney cancer in 2010 at the age of 62, for insisting that she go there.
She's been inspiring others with her story as well. Asked to share her medical history during a recent seminar with her fellow patients, Guarnieri explained she'd been fighting advanced kidney cancer for more than two decades.
"Then a gentleman in our group turned around and clapped," Guarnieri recalled, "and he said, 'You give me hope.'"