Robinwood Lane Elementary hosts book fair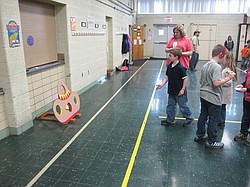 Photo
Neighbors | Tim Cleveland.A boy tossed a beanbag through a target at Robinwood Lane Elementary's Family Night.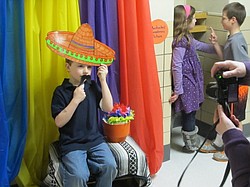 Photo
Neighbors | Tim Cleveland.A student at Robinwood Lane Elementary had his picture taken with a sombrero and a fake mustache at the school's Family Night.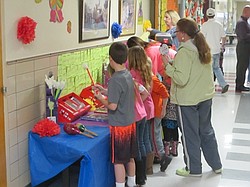 Photo
Neighbors | Tim Cleveland.Students gathered around to check out the various books and pencils on sale at Family Night.
By TIM CLEVELAND
Robinwood Lane Elementary School hosted a book fair March 10-14 to raise money to buy library materials. Approximately 150 students were expected to attend the fair, which was sponsored by Scholastic.
"We do this twice a year. It's kind of a fun time for the kids to come with their families and to buy books," school librarian Debbie Slavens said. "I set up a schedule and each of our classrooms come to the book fair and they can do their shopping then."
The book fair had a Mexican fiesta theme, with chips and salsa being passed out, plus the kindergarten through fourth-grade students could have their pictures taken wearing sombreros and mustaches that had suckers attached to them.
"We use the money to purchase new materials for the school library," Slavens said. "We did a fundraiser called 'All For Books.' The kids would bring in a dollar for each slip they filled out with their name. They're displayed in the hallway. That money is for the Akron Children's Hospital of the Mahoning Valley. That amount should be over $300. The students also purchased mustache suckers for 50 cents."
Slavens said while she's not sure how much money would be raised overall in the book fair, she did say, "I'm hoping to have a really good amount."
Slavens added that the event has been received enthusiastically by the students.
"They've been so excited," she said. "I do a lot of stuff ahead of time to build the excitement. In the classes we've been speaking Spanish. I've been reading Spanish-themed books. What I want them to get from it is a real joy and excitement for reading and for books. They know how I feel about books. They know I'd rather read a book than do anything else. I want them to try and feel that way. That's a big part of why we do this."