Smith, Hammonds reach KO Drugs title match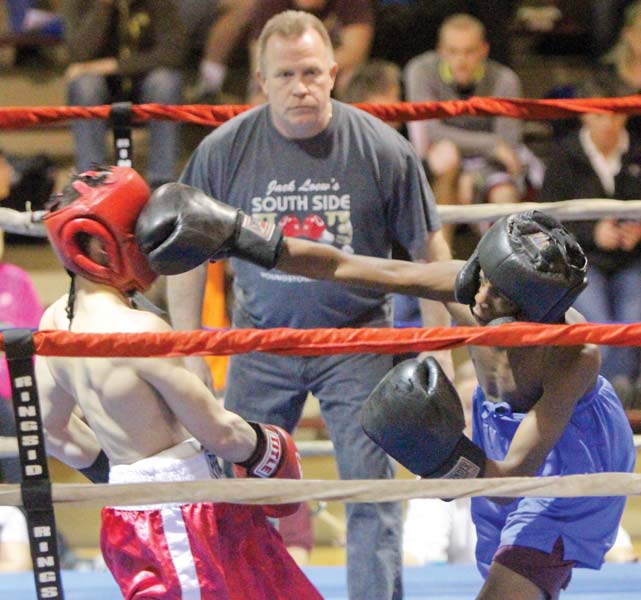 ---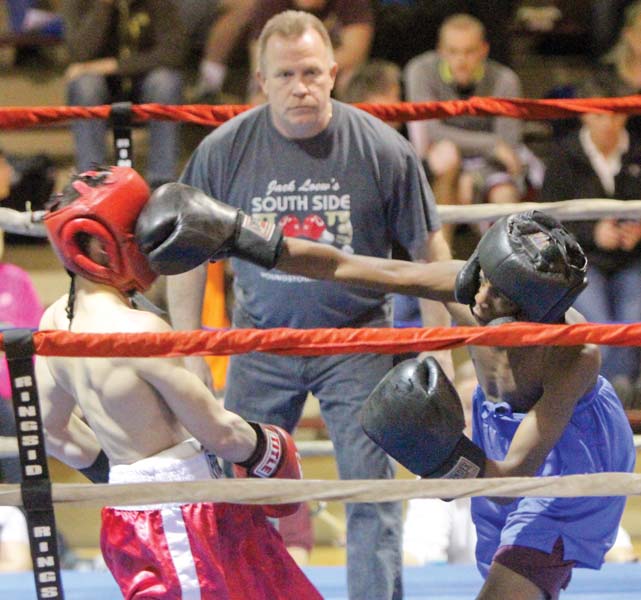 Photo
Referee Jack Loew watches as Re'yan Hammonds of Farrell, right, lands a right to the jaw of Youngstown Christian's Emanuel Padilla in their bantamweight bout Thursday during Round 2 of the K.O. Drugs High School Boxing Tournament at the North Lima Business Complex. Hammonds won by unanimous decision to advance to the final next week against his cousin Portez Smith.
Farrell cousins Smith, Hammonds win fights
to set up championship grudge match next week
By Greg Gulas
NORTH LIMA
Classmates, cousins and even stepbrothers squared off Thursday night in the semifinals of the K.O. Drugs High School Boxing Tournamentn at the Shops at North Lima Business Complex.
In all, 19 fighters won a second consecutive bout with nine scoring victories by KO and five others finishing on the high end of split decisions.
"The kids fought their hearts out tonight with the hopes of earning a spot in next Thursday's championships. Very few stoppages, plenty of hard hitting and numerous split decisions demonstrated the competitiveness of tonight's semi-finals pairings," said tournament founder and director Chuck Nelson. "We greatly anticipate crowning 27 champions next week."
It was all in the family in one semifinal match, as two stepbrothers met in the ring. Two cousins fought separately in another match to set up a family-oriented championship matchup next week.
In underclass action, Farrell's Portez Smith got the night started by scoring a first-round TKO over Colin Razor of South Range.
His cousin, Re'yan Hammonds then followed with a unanimous decision over Youngstown Christian's Emmanuel Padilla as both moved to 2-0 in the tourney.
They will square off against each other next week for the division's bantamweight crown.
"I just stayed focused and worked the body because my goal was to get to the championship round and I'll be there next week," Smith said. "It will be a very different feeling going up against my cousin, but we both know what needs to be done if we expect to win a championship belt."
Hammonds isn't looking forward to fighting his classmate and cousin.
"We both knew this could eventually happen so it's really no surprise to either of us that we will meet with the title on the line," Hammonds said. "I'm not looking forward to it, but will continue to work as hard as I have for my first two fights and give it my all."
Leetonia welterweight David Scyoc, a winner by second-round TKO on opening night, barely broke a sweat and improved to 2-0 by scoring a first-round TKO over Ethan Demint of Champion.
"I felt good tonight and now feel very confident that I can win the title. His [Demint] guard was up so I had to work the body more," Scyoc said. "I'm now shooting for the underclass 'Most Promising Boxer' award."
Richard Palmer of Niles McKinley, who scored a unanimous decision over New Castle's Marcus Brunelle, also improved to 2-0, but said he still needs to improve if he expects to win a championship belt.
"I didn't fight my best, but did work my hardest," Palmer said. "While I thought I did all right, that won't win a title next week so I have to train harder and be in the best shape possible. I know my opponent, Devan Treharn of Liberty will be ready to go."
By day, stepbrothers Kody Kolarik and Austin Piper share a home and are ninth-grade classmates at South Range High School.
For three rounds Thursday night, they were anything but cordial to one another.
Kolarik scored a split decision over Piper in a light heavyweight pairing while both agreed that the fight could have been judged either way.
"At home we wrestle more than we fight so we know each other's strengths and weaknesses. He got me good a couple times and I hit him good a couple times as well," Kolarik said. "I really felt like it was a tie."
Piper added: "We practiced against each other and knew what to expect, which is why it was a close fight. The outcome really could have gone either way."
In upperclass action, Champion's John Prebonick avenged a split decision loss last week as he scored a second-round TKO over MCCTC's Nathaniel Bair in junior middleweight action while cruiserweight Christian Shedosky of South Range posted a split decision over Lakeview's Jesse Burkey.
"Last week I just wanted to give up, but didn't. I was knocked down in the first round but didn't give up because something was pushing me to keep on going. I'm glad that I did," Prebonick said.
Shedosky, who lost by unanimous decision a week ago, said giving it his all was the key.
"Last week my opponent had a reach advantage and I had butterflies," he said. "Whether I am 2-0 or it's two and out, I just want to have fun; and I am," he said. "I do realize, however, that I need to be in better condition for next week's championships."
There will be 30 bouts next week, including three consolation and four female division championship match-ups.
Tickets are $9 for students and $15 for adults and will be available at the door the night of the event. Doors will open at 6 p.m. with the first title bout scheduled to begin at 7 p.m.
For more information contact Chuck Nelson at 330-423-2203 or Pat Nelson at 330-727-0932.