Phantoms set for one more weekend of action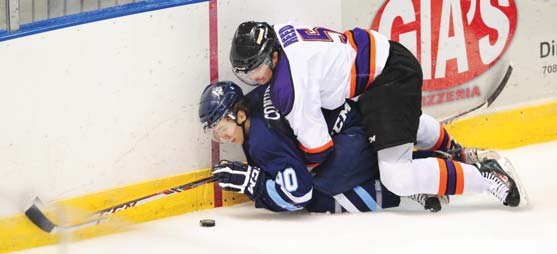 ---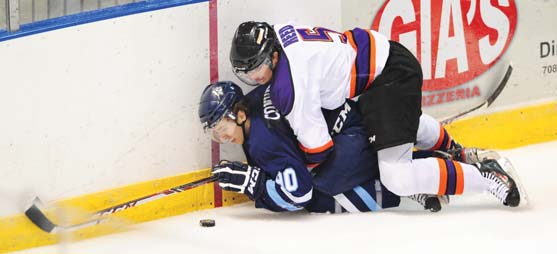 Photo
Youngstown's Truman Reed, top, will be one of several Phantoms players who will be suiting up as juniors for the last time in this weekend's season fi nales at the Covelli Centre before heading off to college.
Several Youngstown players will suit up
as juniors for the last time before college
By Tom Williams
YOUNGSTOWN
For the first time since April 2011, the Youngstown Phantoms know the exact day their season will end. Head coach Anthony Noreen said his mission is to make sure that doesn't happen again any time soon. "It's something I hope to never experience again," said Noreen, whose team will wrap up its fifth USHL regular season with games tonight and Saturday at the Covelli Centre.
The Phantoms (16-36-6, 38 points), the last-place team in the USHL's Eastern Conference, will miss the playoffs for the first time in three seasons.
Tonight's opponent is the third-place Dubuque Fighting Saints (33-21-4, 70 points), who have faint hopes of overtaking Cedar Rapids for second-place.
Saturday's opponent is the Sioux City Musketeers (37-18-3, 77 points), the Western Conference's third-place team trying to stave off Sioux Falls.
These games will be the final ones in Phantoms jerseys for six players: goaltender Sean Romeo (Maine); defenseman Truman Reed (Providence); and forwards Alfred Larsson (Merrimack), Tyler Spezia (Bowling Green), Luke Stork (Ohio State) and Conor Lemirande (Miami of Ohio).
Larsson, the team's captain from Malmo, Sweden, said he's not changing his approach for the final games of his USHL career.
"Of course, it's a little different," Larsson said. "It's the last week with the guys — [I'm trying] to enjoy every moment, every minute of the time I have left here."
Larsson and Stork are completing their second seasons with the Phantoms. Lemirande, Reed and Spezia joined the team last summer.
Romeo has spent the most time of anyone in a Phantoms uniform. The goalie from Cary, N.C., joined the team at the Christmas break in 2010.
Larsson calls his time spent in the Mahoning Valley as "two fantastic years. I couldn't be happier for being part of the Youngstown hockey team and the Youngstown community.
"Everyone has taken care of me very well since the day I got here," Larsson said. "I feel like I've learned so much — both [on the ice] and with the language, the culture."
Spezia joined the Phantoms after winning the USHL championship last season with the Fighting Saints.
"It's emotional for sure," Spezia said. "For a while, we've known that this wasn't going to be our year. For the most part, we're trying to enjoy this time.
"We're playing for some pride. We're going to go out there and give it everything we've got."
One of the things that most impressed Larsson about Mahoning Valley sports fans is our love for "football, baseball and the NBA.
"I'd say you are a little more passionate about your sports," Larsson said. "In Sweden, you go to the games and you kind of sit there and watch.
"At the games here, everyone is more into it, more passionate."
He's noticed many more fast-food temptations.
"You see a McDonald's [almost everywhere] and I understand a lot people find it hard to resist," Larsson said. "For us, knowing you're a hockey player 24/7, you know you have to take care of your body every day, so I try to eat healthy."
Several things impressed Spezia, who is from Clinton Township, Mich.
"The potholes here are a bit tricky," Spezia said. "I hit a couple of those and had to get some new tires.
"I never realized how close [Youngstown] is to Pittsburgh and how big football is here."
His home is about three-and-a-half hours away.
"Getting used to Ohio a year before I go to school is pretty cool," Spezia said. "It was really close to home, which was the best as my family could come to watch me play."
In his first season as a Phantom, Larsson suffered a broken thumb and missed eight weeks. Last fall, he injured his back sat out 21 games.
"I think you appreciate the game even more when you come back from an injury," Larsson said. "You see how much you miss the game when you are out of it for a while."
Saying goodbye — whether it's after a hard-fought playoff series or from missing the postseason — isn't easy.
"Last year was really tough because we were so into [the playoffs] and then suddenly it's over," Larsson said. "That strikes you really hard.
"Now we've had a few weeks to realize that it is going to be over. I'm going to be sad to play my last [junior] game, but it's not as tough as last year."