Energized Guyz gives presentation at North Elementary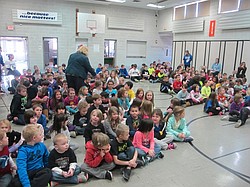 Photo
Neighbors | Tim Cleveland.North Elementary gathered in the school's gym to watch a presentation from The Energized Guyz.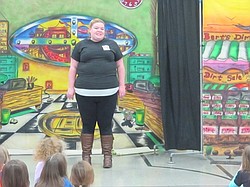 Photo
Neighbors | Tim Cleveland.Meredith Gratton of The Energized Guyz spoke to North Elementary students at the school's Energy Show.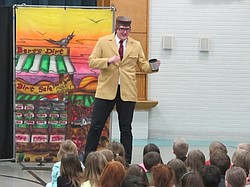 Photo
Neighbors | Tim Cleveland.Robert Stetson of The Energized Guyz began his presentation at North Elementary in character.
By TIM CLEVELAND
In an effort to teach children ways they can have fun while conserving energy, North Elementary brought in the Energized Guyz on March 13 to give a presentation to the approximately 150 students at the school.
The Energized Guyz were on their eighth week of touring schools. The duo – Robert Stetson and Meredith Gratton – work for the National Theater for Children and have been contracted by Ohio Edison of the First Energy Company to do the presentations.
Stetson and Gratton have performed in front of as many as 400 children at a time and do as many as four 30-minute shows in a day.
"We teach kids about saving energy, how energy's created, how it's used and how it gets wasted and how to conserve it," Stetson said. "We play superheroes saving energy."
Stetson and Gratton perform various skits using character names such as Nikki Neutron and The Sneaker to present energy saving to the students.
"It's kind of a fun way to talk about stuff that can be boring at times but we can put a fun spin on it," Gratton said.
Gratton said doing the show has educated her to energy conservation methods.
"When we started doing the show, I learned stuff like how resources actually get transformed into energy and why we need to make sure we conserve the ones that we can and utilize the ones that are renewable," she said.
Stetson gave one example of ways he and Gratton hope to educate children in ways to save energy.
"Besides the entertainment value, I think they get a lot about things they can do to save energy," he said. "Little things like if they turn off the faucet when they brush their teeth, they're saving one to five gallons of water every time they brush their teeth."