Campbell nonprofit hosts fundraiser to restore Sheet & Tube housing
---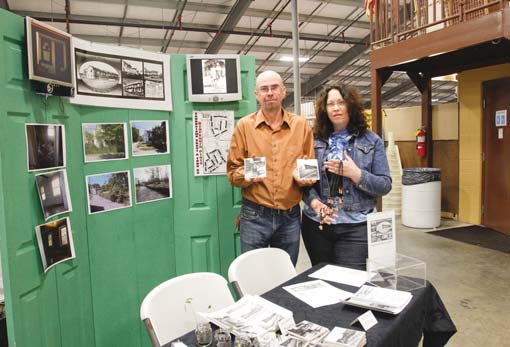 Photo
Tim Sokoloff and Linda Gens hold up handmade coasters and necklaces they have for sale at Four Seasons Flea and Farm Market in Youngstown. Sokoloff and Gens are the president and executive director, respectively, of the Iron Soup Historical Preservation Co. They will be selling the items throughout April to bring more former Youngstown Sheet & Tube Co. worker housing units in Campbell out of blight and into tenancy.
By EMMALEE C. TORISK
CAMPBELL
Making a "concrete" connection with the past is now as simple as visiting the Iron Soup Historical Preservation Co.'s booth at Four Seasons Flea and Farm Market.
On Wednesdays and Sundays throughout April, Iron Soup will be there, selling morning glories, handmade necklaces and coasters — the proceeds from which will go directly toward bringing more of the circa-1918 concrete units built in the city by the Youngstown Sheet & Tube Co. out of blight and into tenancy.
Iron Soup owns more than 20 of the 179 remaining units at the national historic site, and will soon begin renovating its fifth.
"We noticed that there was a lot of interest [in] how people lived back then," said Linda Gens, the executive director of Iron Soup. "People love nostalgia, and this was a way people could partake in that."
Gens added that both the felt-backed tile coasters and the adjustable, unisex necklaces offer people the chance to "own a little piece of history."
The coasters are emblazoned with historical, black-and-white photographs of life in the company homes, while the necklaces each feature a wire-wrapped chunk of concrete from the 96-year-old units. A set of four coasters is $20, one coaster is $6, and a necklace is $10.
In addition, Iron Soup has small morning-glory starter plants available for $1, and soon will also have 4-inch square planters available for $3. Both kinds come from the morning glories planted last year to "mitigate the effects of the blight" still apparent in some units comprising the 6-acre complex of row houses, Gens noted.
"They're a symbol," she said. "You see the beautiful blue flowers and not the disrepair."
The coasters and the necklaces will remain available via Iron Soup's Facebook page even after the Four Seasons fundraiser concludes at April's end, while the morning glories will be available only seasonally.
Tim Sokoloff, the president and chairman of Iron Soup, expressed his gratitude to Four Seasons, which donated space to the nonprofit organization.
Both he and Gens added that it's just one of many examples of support Iron Soup receives from locally owned and operated businesses in the community.
Iron Soup's display board at Four Seasons, for example, is the product of numerous donations. The bi-fold doors are from Home Depot; the paint for it from a now-closed paint store in the city.
Other items, such as the electronic displays that show historical photographs and the batteries that power the entire operation, are donations from Ace East Pawn on McCartney Road and United States Trading on Poland Avenue, respectively.
Even the fliers listing myriad ways to help Iron Soup fulfill its mission were printed for free by A-1 Industrial Maintenance on Tenney Avenue. Among those ways is an online fundraiser at www.justgive.org. A $10 minimum donation is required.
"When you donate, you're helping more than save history," Gens said. "You're healing a wounded memory, and you're taking these homes into a sustainable future."
Four Seasons Flea and Farm Market is at 3000 McCartney Road in Youngstown.
For more information about the Iron Soup Historical Preservation Co., which is based in a former company home at 40 Chambers St., visit www.ironsoup.com.