Boardman library helps children with reading skills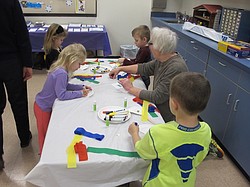 Photo
Neighbors | Tim Cleveland.A group of children made Wind Men at Boardman library.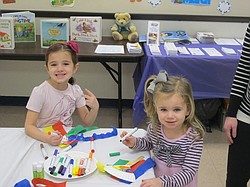 Photo
Neighbors | Tim Cleveland.Stella Sardich (left) and her sister Lily worked on making their Wind Men at Boardman library.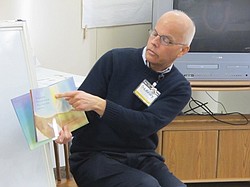 Photo
Neighbors | Tim Cleveland.John Yingling of Boardman library read from the book "Wake Up, It's Spring" during the Baby Brilliant event.
By TIM CLEVELAND
Every Tuesday at 10 a.m., Boardman library hosts a Baby Brilliant event for children ages 4 and 5. Every week, children are presented with a different theme with book reading and other activities.
On March 18, the theme was spring with the new season just around the corner. Thirteen children and seven adults attended.
"It's to get kids ready for when they go to kindergarten and get into a formal preschool, kind of get them ready for reading," librarian John Yingling said of the purpose of the program. "Show them enjoyment, the pleasure of reading. We also tell a story using a magnetic board. We do what we call finger plays, where you can do a story, and singing. Singing is an important part of reading readiness."
Yingling read four books to the children during the 30-minute program, "Wake Up, It's Spring," "How Do You Know It's Spring," "In Like a Lion, Out Like a Lamb," and "We're Going to a Picnic." In addition, he and the children used their fingers to simulate planting seeds, rain fall and plants growing out of the ground. There was also singing songs about things that can be done during spring.
Yingling went on to pass out letters to the children. When he called out that letter, the children gave the letters back and Yingling used them to spell out "Happy spring, Eeyore" on a dry-erase board. He them produced a stuffed Eeyore that the children could pet and hold after the program was over.
It was then on to the activities portion, as the children were given pieces of paper plates cut into a triangle shape, streamers, a popsicle stick, markers and glue with which to make wind men.
Yingling said the programs not only help get children interested in reading, they also hope to get them attending the library regularly.
"From these programs, we hope to get them interested in enjoying coming to the library and show that the library has books, story times, movies," he said. "Maybe they'll get their own library card and become a library user."
Julie Sardich of Boardman brought her daughters, Stella and Lily, to the event. She said they have been regularly coming.
"We usually come on Wednesdays to the story time for the 2- and 3-year-olds, but we were doing an art class on Tuesdays so we couldn't come," she said. "Now that it's over, here we are."
Sardich said she feels her daughters have improved their reading skills since they've been coming to the Baby Brilliant programs.
"Yes, they really enjoy it," she said. "Today, I think they enjoyed it even more so coming together. They don't usually get to do that because (Lily's) in preschool. It was fun to see them interact together in the activities."