Austintown Fitch High School hosts Teen Tech Week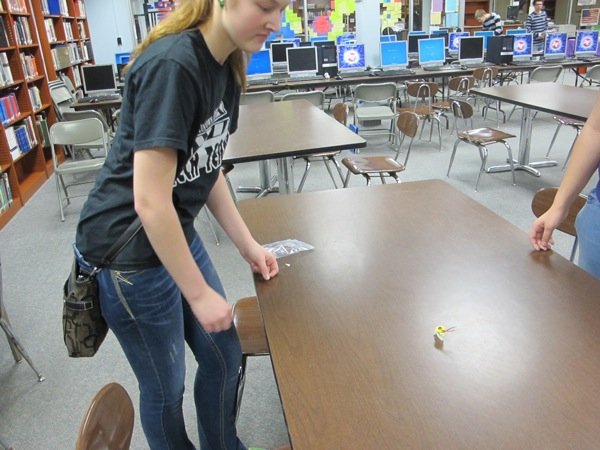 ---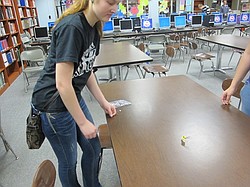 Photo
Neighbors | Tim Cleveland.Austintown Fitch High School sophomore Caroline Lacusky watched a bristle bot scoot across a table during Teen Tech Week.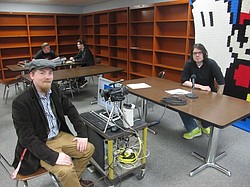 Photo
Neighbors | Tim Cleveland.Austintown Fitch tech managers Dan Johnson (left) and Dan Clark demonstrated how to make an episode of Austintown Community Television during Teen Tech Week.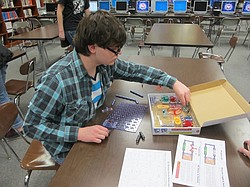 Photo
Neighbors | Tim Cleveland.Austintown Fitch High School senior William Dzenowski put together a circuit board during Teen Tech Week.
By TIM CLEVELAND
For Teen Tech Week that ran from March 17-21, Austintown Fitch High School students were exposed to and educated about various electronics.
The event was supported through the American Library Association through an affiliation with the Young Adult Library Services.
"They propose a Teen Tech Week every spring to connect the users to the technology through digital media as well as the original print media," said substitute librarian Sheila Henline, who was in charge of the event.
Students were invited to participate in Teen Tech Week on a voluntary basis on their lunch periods.
There were many items on display, including a computer lab, a new touch screen monitor that is used for demonstration purposes at this time, but Henline said she hopes that the school's students will be able to use it as well.
There were also a PC autopsy, where a computer was taken apart and put on display, old tech, such as older keyboards and computers, the Fitch robotics team displayed a old robot from last season and there were floppy discs displayed artistically as if they were a Space Invaders game.
Students could also participate in an online scavenger hunt to win a Chromebook and a $100 gift card from Best Buy as incentives to participate.
Students also made bristle bots, which were made out of the heads of toothbrushes, a cell phone battery that controls a phone's vibrating function and four wires. The wires were connected and when placed on a table, the bristle bots would vibrate across the surface.
Fitch senior William Dzenowski participated in Teen Tech Week and said he's been interested in electronics since he was a young child.
"We used to take things apart, put them back together, try and see how it worked," he said. "I've learned how to code a little and how the different circuits work because I didn't know how to build a circuit before."
Fitch technical manager Dan Johnson was on hand to demonstrate Austintown Community Television, which is a local service on channel 202 on Armstrong Cable. The channel consists of local announcements and community news.
"This is just a glimpse of what we do everyday," he said. "We tape stuff for the community, put everything up on the air and have everybody watch it."
Henline said the event is a chance to show off technology to Fitch students.
"They get to see the resources that are available," she said. "They get to see the opportunities that are available. Something that has developed from Teen Tech Week is that we are going to start a tech club in the fall. That grew out of this. We didn't have one before. They got together and said, 'Hey this is what we can do. We would like to continue this.' We're going to try and get approved through our principal here to have a tech club and we'll have an after school tech club where they can learn circuitry, all about computers, computer boards, things like that."