Published: Thu, April 3, 2014 @ 9:46 a.m.
Eric Barrett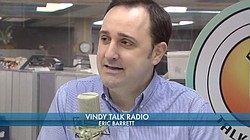 Video Set
Tune in to Vindy Talk Radio at 11 a.m. to get jolted out of winter blahs and ready your thoughts for spring planting.
Eric Barrett is here from the Ohio State Extension office. They are the kings of green.
Listen here at 11 a.m.