Charles Keating of S&L scandal dies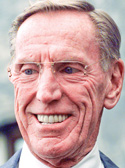 ---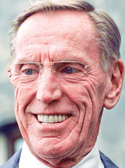 Photo
Associated Press
PHOENIX
Charles H. Keating Jr., the notorious financier who served prison time and was disgraced for his role in the costliest savings-and-loan failure of the 1980s, has died. He was 90.
A person with direct knowledge of the death confirmed Tuesday that Keating had died but didn't provide further details. The person wasn't authorized to release the information and spoke on condition of anonymity.
When Keating's Phoenix-based home-construction company, American Continental Corp., bought Lincoln Savings & Loan in 1984, the multimillionaire elevated its worth from $1.1 billion to $5.5 billion in a four-year period.
But his financial empire crumbled with state and federal convictions for defrauding investors. Keating purportedly bilked Lincoln customers by selling them $200 million of unsecured "junk" bonds. They became worthless when Keating's company became bankrupt.
The thrift's collapse cost taxpayers $2.6 billion and tarnished the reputations of five senators who became known as the "Keating Five." One of them was Republican U.S. Sen. John McCain of Arizona, and the scandal re-entered the spotlight during the 2008 presidential campaign.
As the public heard testimony of elderly bondholders who had lost their life savings, Keating became a national poster boy for corporate greed. Keating was convicted in both state and federal court, but the convictions were thrown out, and he agreed to a federal plea deal that freed him after nearly five years in prison.
Though Keating insisted he was a symbol of the common man, he was known more for an extravagant lifestyle. Keating received $19.4 million in salary, stock purchases and other compensation over five years, ending in 1988. His company provided luxuries such as the use of a $5 million refurbished Florida estate. The corporation picked up the tab for lavish events such as a 1986 Christmas party at which nearly $2,000 was spent on Silly String alone.
American Continental also paid to maintain three corporate jets. Keating was known to take long trips to Africa, Europe and elsewhere.
As the savings-and-loan institution's profits rose, the Federal Home Loan Bank in San Francisco began looking into investment activity in 1986. The examination was the beginning of numerous conflicts between Keating and federal regulators.
By April 1989, American Continental filed for bankruptcy protection — one day before federal regulators seized Lincoln for purported bad business practice. The government claimed Keating made land-swap deals to fabricate real-estate profits.