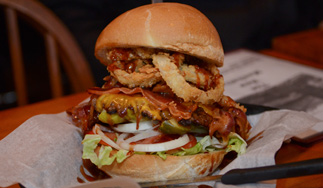 ---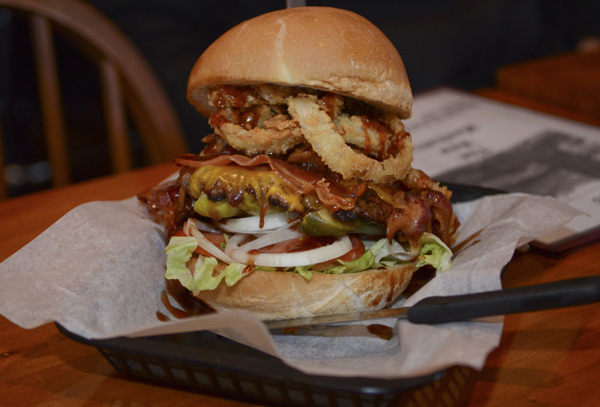 Photo
"The New Manhattan Burger"
If You Go...
What: The New Manhattan
Address: 7762 Hubbard Masury, Hubbard
Phone: 330-534-7890
Hours: Mon. through Thurs., 11 a.m. to 10 p.m.; Fri. and Sat., 11 a.m. to 11 p.m.; and Sunday, closed
Menu: Five burgers; a Build Your Own 1/4-pound or 1/2-pound burger; and a challenge burger
Website: Facebook-The New Manhattan
By Anthony M. FUDA
Start spreading the news, about the burgers today. I want to try them all in ... No, we didn't go to New York, New York, but we did have a big city burger at The New Manhattan.
Originally opened in the 1940s as "The Manhattan" and rumored to be a bootlegger bar, the venue showcased a big dance hall, and numerous acts from that era performed there.
Over the next six decades, the bar changed owners until landing in Alvin and Marilyn McClung's hands. They modernized it and created The New Manhattan.
We entered the bar and grill and were pleasantly greeted by our waitress, Kelly Huffman. She made sure everything was perfect throughout the meal and that we never saw the bottom of our glasses.
The menu offered a little something for everyone. There are five specialty burgers: Black & Blue Burger (Cajun burger topped with melted bleu cheese), Diablo (signature hot pepper mix and pepper jack cheese), Western Burger (spicy BBQ, cheddar cheese, bacon and onion rings), Pittsburger (coleslaw, french fries and provolone cheese), Buffalo Burger (hot sauce, pepper jack cheese and a side of ranch).
You also can choose a build your own, opting for 1/4-pound ($5.99) or 1/2-poung ($6.99). The toppings range from 50 cents to a dollar, with everything from Italian greens to pepperoni, egg and sauerkraut; as well as any cheese, bacon and hot peppers — just to name a few.
The New Manhattan also has a challenge burger, appropriately called The New Manhattan. It is a one pound version of either the Pittsburger or the Western Burger, served with a mountain of fries. And if you can finish this beast in an hour, you get bragging rights and a T-shirt.
All the burgers are served on a kaiser roll with fries and a pickle. You can add soup or salad for $2. Lettuce, tomato, onion and mayo are available upon request.
I was tempted to try the challenge, but my stomach said no! So I went with the Diablo and was pleased with the homemade hot peppers. They added a great flavor to the perfectly seasoned and grilled beef. Cover that with a nice blanket of pepper jack cheese, a fresh tomato and a couple onions and this was a heat seeker's delight. This sandwich, and fries, were a feast in itself, filling my stomach with great flavor leaving just enough room for a nice cold beer.
Eric also had the Diablo, and thought: "For someone looking to have some kick in their meal, the Diablo burger is the way to go. After sampling the hot peppers on their own, I knew that adding them to this burger was a no brainer, and trust me it did not disappoint. It was good enough that I took it upon myself to pile some extra peppers on top of the heaping pile already provided! Adding the pepper jack onto a well-seasoned beef patty, and a kaiser roll that held up splendidly, I can't recommend this burger enough".
Scott went with the Pittsburger and remarked: "What stood out for me was the flavor of the meat. It seemed to be pretty high quality, and seasoned perfectly, making it a very enjoyable burger!"
Chiz had the Black and Blue Burger and said: "It was a good size, and seasoned well with Cajun spice. The bleu cheese on this thing was plentiful, which made me happy. I topped it with lettuce, tomato, pickle, and added some of the house-made hot peppers and oil blend. By the time I was done eating this awesome burger, my hunger was "black and blue"!
Spatman went with the Western Burger and said: "My Western Burger was a half-pound Angus burger well done and seasoned perfectly to bring out a flavor that was topped by the barbecue sauce and grilled onions along with cheddar cheese, bacon and onion rings. Bundled together on a nicely toasted bun and sided by double-dipped onion rings, this burger rated a 5 out of 5 on my wet-nap scale. Great burgers and prices will ensure a return visit."
JT said: "Well, I also had the Western burger and on my 'wow' scale it gets a great big wow! The chef did an excellent job seasoning the beef and even with the abundance of toppings, including crisp bacon and some phenomenal onion rings, the fresh bun held up to the tasty end. I'm adding this one to my list of all-time favorites!"
After we were filled from our tremendous burger feast, chef Jason Marsco stopped at our table and teased us, by talking about one of their most popular sandwiches — the Wedding Soup Sandwich. It is made with a meatball sliced to fit the bun and chicken, Italian greens and provolone cheese. But it isn't a burger, so we had to pass — this time.
You don't need to head to the Big Apple for a good burger, especially when we have The New Manhattan right here in Hubbard. It's a great place to stop in and get a tasty burger, either for a meal or if you are waiting to see one of the many local bands who play there.
And if you are adventurous, take a crack at the challenge burger. That's one hour to spend with friends and family while you try to conquer The New Manhattan.
With a third of the year in our guts, we now have a tie for first place for Burger of the Year. Remember, your votes through email and Facebook help us determine the Burger of the Year winner.
Keep reading the Valley food section each Wednesday for the best food the Valley has to offer.
If you know of a burger that should be on our hit list, send the info to mvbrb@hotmail.com, or on our Facebook page BurgerGuyz.