Lordstown workers try to move ahead amid GM uproar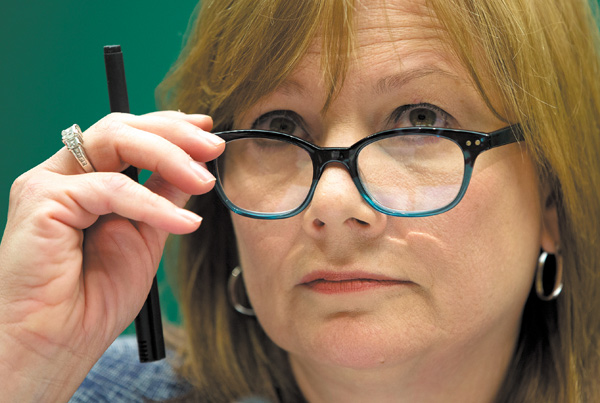 ---

Photo
General Motors CEO Mary Barra testifies Tuesday on Capitol Hill in Washington before the House Energy and Commerce subcommittee on Oversight and Investigation. The panel is looking for answers from Barra about safety defects and the mishandled recall of 2.6 million small cars.
RELATED: March sees an increase in Chevy Cruze sales
Staff/wire report
A union official representing workers at the General Motors plant in Lordstown said the workers are trying to move past a massive ignition-switch recall that again took center stage Tuesday, as GM's CEO testified at a contentious congressional hearing.
The Trumbull County plant produced the Chevrolet Cobalts that were at the center of a 2.6 million-car recall for a faulty ignition switch that could switch out of the run position, disabling power steering, power brakes and air bags.
Workers also learned over the weekend that GM had recalled 172,000 Chevrolet Cruze vehicles after mysteriously ordering dealers on Friday to halt the sale of all Cruzes from the 2013 and 2014 model years equipped with a 1.4-liter turbo engine.
The company later announced that those cars could have a defective axle part.
Criticism of the Cobalt at the hearing was not lost on the plant workers that worked to produce both cars.
"It's a little discouraging," said Robert Morales, president of United Auto Workers Local 1714, adding that the focus at the plant remained fixed on producing quality cars.
"We're still leaning toward a positive note because it's something that's going to be addressed. It's something that's going to be fixed," Morales added.
Cruze production will continue as planned, with two Saturdays of production tentatively added for April 12 and 26, he said.
The New York Times on Monday published a story saying Cobalts were plagued by a variety of mechanical and safety
issues that made the cars "lemons from the start."
Meanwhile, on Capitol Hill, GM CEO Mary Barra acknowledged under often testy questioning the company took too long to act. She promised changes at GM that would prevent such a lapse from happening again.
"If there's a safety issue, we're going to make the right change and accept that," said Barra, who became CEO in January and almost immediately found herself thrust into one of the biggest product safety crises Detroit has ever seen.
But as relatives of the crash victims looked on intently, she admitted that she didn't know why it took years for the dangerous defect to be announced. And she deflected many questions about what went wrong, saying an internal investigation is under way.
When Barra tried to draw a distinction between parts that didn't meet specifications and those that were defective and dangerous, Rep. Joe Barton, R-Texas, shot back: "What you just answered is gobbledygook."
She also announced that GM has hired Kenneth Feinberg — who handled the fund for the victims of 9/11, the Boston Marathon bombing and the BP oil spill — to explore ways to compensate victims of accidents in the GM cars. Barra stopped short of saying GM would establish such a fund.
Some of the questioners appeared surprised that Barra hadn't reviewed the tens of thousands of pages of documents that GM had submitted to the committee, and that she was unaware of some decision-making processes at the company.
GM has said that in 2005 company engineers proposed solutions to the switch problem, but the automaker concluded that none represented "an acceptable business case."
"Documents provided by GM show that this unacceptable cost increase was only 57 cents," said Rep. Diana DeGette, D-Colo.
Under questioning, Barra said GM's decision not to make the fix because of cost considerations was disturbing and unacceptable, and she assured members of Congress that kind of thinking represents the old General Motors, and "that is not how GM does business" today.
"I think we in the past had more of a cost culture," Barra said, adding that it is moving toward a more customer-focused culture.
She testified the inexpensive fix to the switch, if undertaken in 2007, would have cost the automaker about $100 million, compared with "substantially" more now.
Rep. Tim Murphy, R-Pa., chairman of the House Energy and Commerce Subcommittee on Oversight and Investigations, read from an email exchange between GM employees and those at Delphi, which made the switch. One said the Cobalt is "blowing up in their face in regards to the car turning off."
Murphy asked why, if the problem was so big, GM didn't replace all of them in cars already on the road.
"Clearly there were a lot of things happening" at that time, Barra said.
In his prepared remarks, David Friedman, head of the National Highway Traffic Safety Administration, pointed the finger at GM, saying the automaker had information last decade that could have led to a recall, but shared it only last month.
Rep. Henry Waxman, D-Calif., said House Energy and Commerce Committee staff members found 133 warranty claims filed with GM over 10 years detailing customer complaints of sudden engine stalling when they drove over a bump or brushed keys with their knees.
The claims were filed between June 2003 and June 2012.
Waxman said because GM didn't undertake a simple fix when it learned of the problem, "at least a dozen people have died in defective GM vehicles."
Some current GM car owners and relatives of those who died in crashes were also in Washington seeking answers. The group attended the hearing after having a news conference demanding action against GM and stiffer legislation.
Laura Christian, birth mother of Amber Marie Rose, a teenager who died in a 2005 Maryland crash involving a Chevrolet Cobalt, said about 30 family members met with Barra and two GM attorneys Monday night. She said they got little reaction.
"A lot of, 'I'm so sorry, I'm so sorry,'" Christian said.
Renee Trautwein, whose daughter Sarah Trautwein died while driving a 2005 Cobalt in June 2009 in South Carolina, said she is sickened by revelations that GM had multiple warranty claims about the problem yet did nothing.
Owners of the recalled cars can ask dealers for a loaner vehicle while waiting for the replacement part. Barra said GM has provided more than 13,000 loaners.