Kitchen repays $2,500 of illegal $4,000 cash gift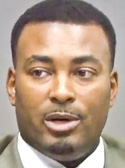 Photo
YOUNGSTOWN
Failed Youngstown mayoral candidate DeMaine Kitchen lent $1,500 to his campaign and used $1,000 left in that account to repay $2,500 of an improper cash contribution given to him by former Mayor Charles Sammarone.
Sammarone, a Democrat, gave a $4,000 cash contribution to the campaign of Kitchen, an independent candidate who worked as the former mayor's chief of staff/ secretary.
State law doesn't permit cash contributions of more than $100.
The Vindicator reported Tuesday that the Mahoning County Board of Elections filed a complaint Monday with the Ohio Elections Commission about the cash contribution and that Kitchen's post- general-election report was filed nearly three months after its deadline.
Kitchen filed an amended campaign finance report with the board of elections at 3:50 p.m. Tuesday showing the loan, a copy of a check dated Tuesday for $2,500 to Sammarone, and outstanding debt of $1,400 to the former mayor.
Kitchen's amended report shows a $127.07 fund balance.
In a prepared statement Tuesday, Kitchen wrote he "intends to repay Chuck Sammarone the $1,400 balance as soon as he can afford it."
Kitchen also wrote that "this should correct the original contribution mistake. [I want] the public to realize that the $4,000 contribution was always reported, however, it should have been in check form. This should put an end to the issue."
It was Kitchen's first public statement since he resigned from his city job on Dec. 2, four days before an investigation concluded he sexually harassed a city employee.
Just before Kitchen filed his amended report Tuesday, Sammarone, who gave the $4,000 cash contribution Oct. 27, 2013, said he hasn't talked to Kitchen or anyone affiliated with his campaign, and hadn't received a check.
"Whatever has to be done [to correct the situation] will be done," Sammarone said.
Sammarone, who is now city council president, said he should have known the law better when it came to cash contributions.
The amended report will be sent to the state elections commission, Kale-Pesta said.
"It's up to the commission how to handle it," she said.
The commission could fine a candidate up to three times the amount that exceeds the maximum cash contribution limit, but that isn't likely for a first-time offender, Philip C. Richter, the commission's executive director, said recently.
Also, the commission doesn't have the authority to compel a candidate to refund the money to the donor.