Port authority buys Austintown site for new Mahoning dog pound
Tweet
Published: Wed, April 2, 2014 @ 12:09 a.m.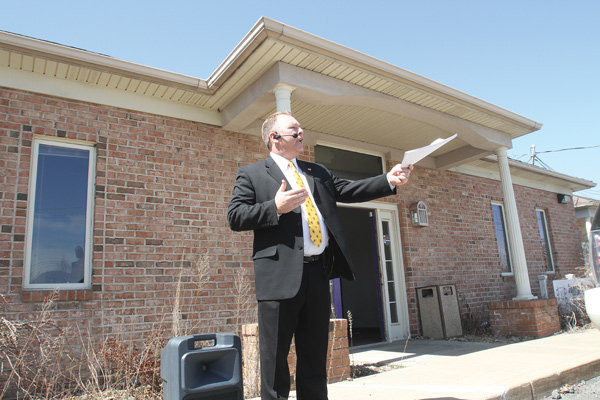 Photo
Narry Baker, an auctioneer, solicits bids for the former Jump Stretch Fitness Center on North Meridian Road. The Western Reserve Port Authority purchased the property Tuesday for $250,000 and plans to lease it to Mahoning County for a new dog pound.
By Joe Gorman
AUSTINTOWN
The Western Reserve Port Authority submitted the winning bid at an auction for a foreclosed building that will be the site of a new dog pound for Mahoning County.
The authority bid $250,000 to purchase the former Jump Stretch Fitness Center at 1230 N. Meridian Road.
Plans are to lease the building to the county for a new pound, which would replace the facility on Industrial Road on Youngstown's West Side.
Sarah Lown, senior economic development manager for the port authority, said the price was close to the cutoff point for bidding for the 8,540-square-foot building, which was foreclosed on in 2012 by Huntington Bank.
The minimum bid required by the bank for the property was $143,334. Two others placed bids along with the authority, but they bowed out when the price went up to $250,000. Eight bidders had signed up.
County Dog Warden Dianne Fry said there is no timetable to move from the current pound, but she said plans will start right away for the move and to convert the building into space for the pound.
"Now the fun starts," she said.
Fry said one of the best benefits of the property is that it is 6.6 acres, which is enough space to walk the dogs that will be housed there.
Fry also said the building's quick accessibility to Interstates 80 and 680 works in its favor.
"We can be anywhere into the county much quicker," Fry said.
Lown credited authority chairman James Floyd for doing much of the work to get everything ready for the bid.
Jerry Serbel of Friends of Fido, a group that volunteers to walk dogs at the pound, also was on hand. He said he is pleased with the purchase because of the extra land that will allow the dogs to have more room.
"It's awesome," Serbel said. He said the building is double the size of the West Side pound.
Lown said the authority already has people willing to donate time and money to help with plans to convert the building into the new pound.