Women of His Vision to sponsor second rally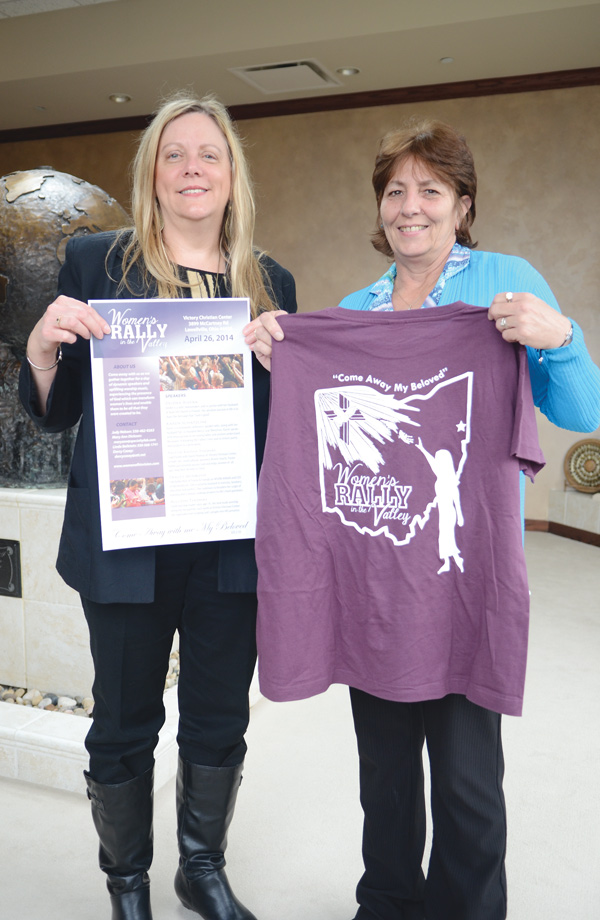 ---

Photo
Linda Beilstein, left, a board member of Women of His Vision, and Mary Ann Dickson, president of the board, hold up a poster and T-shirt promoting the upcoming Women's Rally in the Valley set for April 26 at Victory Christian Center in Coitsville.
Second annual event set for April 26
By LINDA M. LINONIS
COITSVILLE
Conversations with Walter "Bing" Newton, lead organizer and founder of the Men's Rally in the Valley, inspired Mary Ann Dickson to start the Women's Rally in the Valley.
"When I heard him talk about the transformations at the Men's Rally, I knew I'd like to do something like that for women," Dickson said during a recent interview. "I'd never done anything like this before." But, she noted, something kept nagging at her to forge ahead.
Dickson's initial meeting for the first Women's Rally in 2013 was in August 2011, and three people attended along with Newton. Subsequent meetings gained attendance and gathered momentum. "It was by word of mouth," Dickson said of the women who wanted to be involved.
Women of His Vision was formed with the purpose of "planning, praying and visioning" a women's rally and to "see women's lives transformed through Christ."
About 500 women attended the first rally, and there were about 30 vendors focusing on items and issues pertaining to women. "This year, we're hoping for an even bigger turnout," said Linda Beilstein, a board member of Women of Vision, about the April 26 event at Victory Christian Center, 3899 McCartney Road.
Beilstein said this year's speakers, Deidre Rivera, Tracey Winbush, Karen Schatzline and Kathie Thomas, will deliver their takes on the theme "Come Away My Beloved" from the Song of Solomon.
"The theme is about taking time to spend in the presence of God and developing a foundation and relationship with him,"
Beilstein said. "That's the basis for all other relationships."
Beilstein said that the rally also provides an opportunity for speakers to address various issues that women face. "Sometimes it helps if you know you're not alone. Sometimes we're afraid to let others see our struggles," she said.
Dickson added that women "may draw strength" knowing others share their struggles and form new friendships. "Women will be able to walk in confidence because they know others care."
She continued that rally organizers pray about the theme, which just seems to surface. "The theme is about being a bride of Christ ... making a commitment to Christ and finding support in him," she said.
Beilstein said the rally format will present two speakers in the morning and two in the afternoon. There also will be lunch provided by Teen Challenge, a variety of vendors and Expressions of Worship, a praise and dance ensemble from Victory's Liberty site.
"We want women who attend to be all they can be ... we want them to be fulfilled," Beilstein said. "Life is hard, and women have an important role in family life." She said facing challenges with family, jobs and health can be daunting but women can draw strength from faith in God and one another.
Dickson added that women who attend will leave with a feeling that "there are people who care." She said that the organizers realized many women "have hurts that must be healed, but they can be healed through Christ."
Dickson said the rally is nondenominational. "It's a God thing," she said. "We just have a passion to see women thrive."
The rally will emphasize the "power of prayer," the women said. "We believe God answers prayers."
Women of Vision meets from 8:30 to 10:30 a.m. the second Saturday of the month at Piccadilly Parlour Victorian Tea Room in Canfield. The group has a prayer calendar with various prayer needs listed on it.