Police arrest 19-year-old man in armed robbery of Champion BP station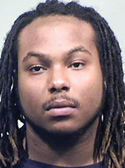 ---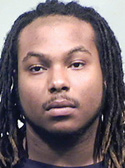 Photo
By Ed Runyan
WARREN
A 19-year-old man with two addresses in Warren has been charged with aggravated robbery for purportedly wearing a ski mask and robbing the BP gas station on Mahoning Avenue in Champion on Saturday night.
Clayton Dowe of Catawba Avenue Northwest and Coit Street Northwest was arraigned Monday in Warren Municipal Court, pleading not guilty. His bond was set at $15,000. If convicted, he could get more than 10 years in prison.
The gas station's 19-year-old clerk said he was in the back room when a black male with dreadlocks, mask and black gloves holding a sock containing what appeared to be a handgun "barged in," pointed the weapon at his head and demanded money.
The clerk put two cash-register trays in the suspect's garbage bag but said he couldn't open the safe. The suspect then ordered him to put a lockbox in the garbage bag.
The 9:22 p.m. robbery was at 5710 Mahoning Ave. NW. The suspect then left in a Ford Taurus.
Based on information provided by the witness and store surveillance video, other law-enforcement officers were alerted to the crime, and Deputy Nick Timko spotted a similar car on Garden Street Northwest about 9:33 p.m.
He made a traffic stop and observed a ski mask, black gloves and a sock with a plastic Air Soft pistol on the passenger seat beside Dowe and a garbage bag containing two cash-register drawers and a metal lockbox on the floor.
The gas-station manager verified that the cash-register drawers belonged to BP.
Warren police charged a 23-year-old city man with two counts of felonious assault after a rookie police officer said he punched him in the face and nearly bit another officer during a struggle at Carmen's Pizza, 1861 Youngstown Road SE, on Saturday afternoon.
Police arrested Charles L. Haynes of Southern Boulevard Northwest and Woodbine Avenue Southeast during the 4:02 p.m. call of an unwanted male.
He pleaded not guilty Monday in Warren Municipal Court. He was released after posting $2,500 bond. He also pleaded not guilty to misdemeanor counts of obstructing official business and resisting arrest.
When officers arrived at the restaurant, Haynes refused to provide identification and balled up his fist. One officer pushed Haynes backward toward a wall, but Haynes struck a rookie officer below the eye, causing a minor injury.
Haynes continued to fight with several officers and put one officer's arm in his mouth, but the bite didn't break the skin because of the officer's coat and shirt.
Officers pepper-sprayed Haynes just above his nose, but it didn't stop him until a fourth officer arrived. Haynes was taken to the hospital for treatment and then to jail.
Howland police charged Hunter T. Woomer, 18, of Howland Wilson Road, with felony robbery after police said he spit in the face of the manager of Giant Eagle, 8202 E. Market St., and kicked him after the manager detained him on suspicion of theft.
The manager said he saw Woomer holding the bottom of his coat as he walked through the store, then observed the merchandise in Woomer's coat. He detained Woomer in the store office while waiting for police.
Woomer was suspected of taking $50.13 of merchandise — a bottle of brandy, a bottle of whiskey, Cheetos and chewing gum at 9:45 a.m. Saturday.
Woomer pleaded not guilty in Warren Municipal Court Monday. Bond was set at $2,500.
Warren police also arrested Joseph Danko, 21, of North Whitney Avenue in Youngstown and Vine Avenue in Warren, on Friday on charges of endangering children and felonious assault associated with injuries to a 2-month-old boy, of Lane Drive Southwest.
A Warren police report says an officer went to Akron Children's Hospital in Boardman on March 22 to investigate an assault of the boy reported by the boy's mother.
More like this from vindy.com