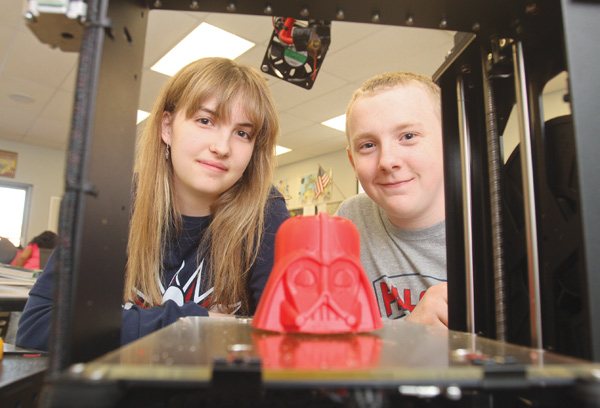 ---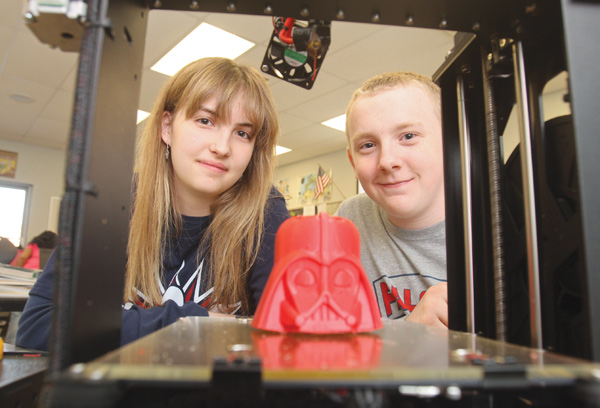 Photo
Austintown Middle School eighth-graders Hannah Rosser and Justin Neff are pictured with the Darth Vader cup holder created by the school's new 3-D printer. A grant from the Trumbull Correctional Institution enabled the school to buy the printer.
By ROBERT CONNELLY
AUSTINTOWN
More than 100 inmates vote monthly on how to give back to the community — from knitting winter hats to awarding grants.
Inmates at the Trumbull Correctional Institution in Leavittsburg in December 2008 formed Links to improve inmate morale and give back to the community. Julie Loomis, public information officer for TCI, said the group has 108 members.
The group is called Links because it is linking the inmates back to the community.
According to the Links' application for TCI, the philosophy is "to educate, guide, and help rehabilitate the general [prison] population through programs." Links also is involved in providing correspondence courses for offenders.
Loomis said that when new inmates arrive at TCI, there is a weeklong orientation during which information is provided on groups and activities inmates can join.
Loomis said Links raises funds through food drives, usually the sale of sub sandwiches.
Links members have knitted hats in their cells for various groups in need over the winter months and also provided grants to groups such as Inspiring Minds of Warren, which empowers youths to reach their potential through education and exposure to life-changing experiences, according to the Inspiring Minds website.
STEM (Science, Technology, Engineering and Math) is in its second year at Austintown Middle School and is taught by Jared Freudenberg and Danielle Chine. The program raises money to fund its projects and looks for grants to pay for new equipment. Freudenberg found out about Links in November and applied for a grant to buy a 3-D printer valued at $1,821.
A 3-D printer feeds plastic into a tube, which is heated or cooled to form different shapes. The shapes are made from code specifics from a Computer-aided Design file, or CAD.
Links awarded the funds to AMS on Feb. 7, and the printer arrived for the STEM program in mid-March.
Chine and Freudenberg agreed that having a 3-D printer has added another dimension to their classes.
"It puts an application into learning, which is what makes it relevant to them, and they take ownership of it," Freudenberg said. "They can see why it's important, and they can see what they're doing ... and they actually get a product at the end."
Some of those products have been applicable to class, such as when they made a mini-Pantheon after they finished reading about ancient Greek civilization. Other times it is as simple as producing a cup holder made to resemble Darth Vader from the movie "Star Wars."
While Chine admits it might not be easier to teach students with the 3-D printer, she said "maybe they're a little more excited about learning about the design process when they have a product at the end."