Martin daughter: Wait will be worth it if killers get max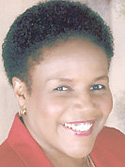 ---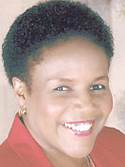 Photo
By Joe Gorman
Youngstown
The daughter of slain real-estate agent Vivian Martin says the time it's taking for the murder suspects to be brought to trial is frustrating, but the wait will be worth it if the two men are convicted and get either the death penalty or life in prison.
Davida Brown said what scares her most, as the third anniversary of her mother's murder came earlier this month, is if the defendants, Robert Brooks and Grant Cooper, somehow go free.
"We want justice for my mom," Brown said. "We want the death penalty or life in prison."
Martin, 67, a cancer survivor and owner of Essence Realty, was found in a burning home in the 3600 block of Nelson Avenue on Sept. 20, 2010. Arrested in the crime a few days later were Brooks, 28, and Cooper, 24. They are charged with aggravated murder and aggravated robbery and could face the death penalty if convicted.
Police said the pair lured Martin to the home to rob her, then killed her and set the home on fire to cover up the crime.
They were both indicted Oct. 13, 2010, and the case was assigned to Judge James Evans of Mahoning County Common Pleas court, but the case has yet to come to trial.
Court records show 26 pretrial hearings have been set in Cooper's case, and a motion to suppress evidence will be heard Oct. 24. His trial date is set for March 17, 2014.
One of Cooper's attorneys, Thomas Zena, said the case is taking so long because of the number of complicated motions that need to be filed because it is a death-penalty case. Zena said any continuance Judge Evans has granted in the case has been made at the joint request of lawyers on both sides.
One motion to suppress was heard in Brooks' case in October 2012, and Judge Evans ruled that a statement Brooks made to Brookfield Township police cannot be used in the trial. That's because Judge Evans ruled police there did not inform him he had a right to remain silent before he was questioned about the case, although statements he made to Youngstown and Boardman police about the case were allowed in.
Brookfield police had arrested them on unrelated charges and asked them questions about the Martin case.
Assistant Prosecutor Rebecca Doherty, the lead investigator on the case, said death-penalty cases always take a lot of time, and Martin's case is compounded by two defendants facing death in separate trials.
Brooks next has a pretrial hearing Oct. 28. Court records show he has had 22 pretrial hearings scheduled.
The time since her mother died has not been easy, Brown said.
"Hell," she said when asked what it has been like. "I need my mom to ask her questions. I miss talking to her and everything. I miss her so much."
Brown said her mother was a strong woman, who was even thinking about going back to school because she wanted to be a teacher.