Trip to Las Vegas honors couple for 60th anniversary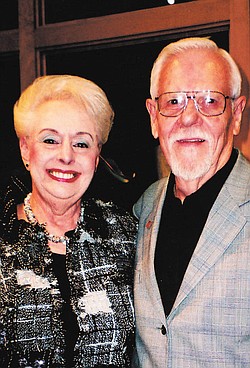 Photo
Mr. and Mrs. Donald Feindt
BOARDMAN
Patricia and Donald Feindt of Boardman celebrated their 60th wedding anniversary Sept. 5 through 8 with their children and their spouses, who honored them with a trip to Las Vegas and hosted the celebration.
Their children are John Feindt of Flemington, N.J.; Vikki (Scott) Silvis of Plano, Texas; and Melissa (Richard) White of Mansfield, Texas.
Grandchildren are Errika and Alexander Feindt, Lindsey and Laura Silvis and Jeremy and Zachary White.
The former Patricia Barham and Mr. Feindt were married Sept. 25, 1953, at the Waldorf Astoria Hotel in New York City.
The couple are members of Congregation Ohev Tzedek.
Mrs. Feindt was a sportswear buyer in New York. She was manager of hats and wigs for Strouss-Hirshberg and retired as a saleswoman for Elizabeth Arden in Horne's Department Store. She is a volunteer for Mended Hearts Inc., St. Elizabeth Health Center, the Garden Forum at Fellows Riverside Gardens, the Butler Institute of American Art and Ohev Tzedek Temple.
Mr. Feindt was a sales representative for Norcross greeting cards and was a designer and salesman at Kitchen and Bath World for 31 years before he retired in 2012. He is a volunteer at St. Elizabeth Health Center and is treasurer of Youngstown Chapter of Mended Hearts, Inc. He is a U.S. Army veteran and served in the Korean War as a communications specialist.
More like this from vindy.com